Gold price breached the Rs 56,000 mark for the first time in history and this conversation played in our head. 
Robinhood investor: my MF & stock portfolio has bounced back nicely.

Their parents: bacha, hold my gold!
We can imagine all the "told you so" that a lot of investors would be hearing right now for not buying more gold or more jewellery. If you feel like you have missed the bus on proper asset allocation into gold then don't rush now. Fear of having missed out or fear of missing out are never good reasons to invest in any asset class.
As the chart below shows the purchase of digital gold on Kuvera has increased 6x from June 1st levels.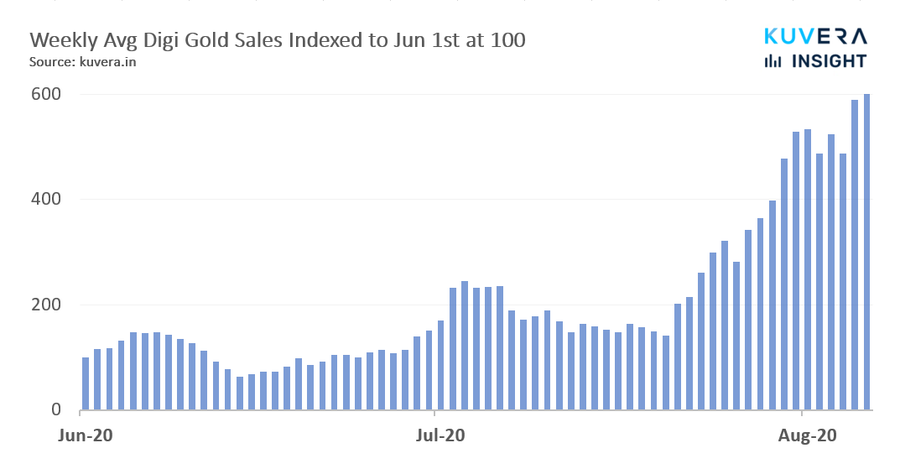 If you have to buy gold now, do it for proper asset allocation reasons. We cannot reiterate this enough. The question then arises, what should one expect if they buy gold today for asset allocation.
Be prepared for this –
1/ If gold price continues to go up, then you will have to sell gold to get back to your required asset allocation. This is the easy part. You have made money, you are happy about your asset allocation decision and you are feeling smart. Rebalancing will be a pleasant experience.
2/ If gold price reverses or goes down, then you will have to buy more gold to get back to your required asset allocation. This is the tough one. You have likely not made money on your gold purchase. And now asset allocation says rebalance by buying more gold. It may feel like putting good money behind bad. Rebalancing may not be a pleasant experience.
Think through both the scenarios today and if you are un-prepared to do 2/, then even though you think you are buying for asset allocation reason, you are really actually just chasing price action.
But you never mentioned where will the gold price go from here?
Yeah because on that front, your guess is as good as ours. Today it is easy to find ten's of articles or experts commenting on why they expect the rally in gold prices to continue from here. But trust us, a few bad quarters and all the reasons why gold is overpriced and expected to fall will come out.
Don't get carried away by either.
Our advice is simple, read the second point above again and again till you internalize what you will have to do if the gold price falls from here and then and only then you can buy for asset allocation purposes. We have written extensively about Gold as an effective portfolio diversifier besides being considered a hedge against inflation. In a recent weekly blog, we also talked about the rising prices of gold and actions that investors can take towards gold allocation in their portfolio.
Highlights of RBI monetary policy:
RBI kept repo rate and reverse repo rate unchanged at 4% and 3.35% respectively

Maintained the accommodative stance of monetary policy 

GDP growth expected to remain in a negative zone in the first half and overall FY21

Increased permissible loan to value ratio (LTV) against gold ornaments and jewellery from 75% to 90%

Extended additional liquidity facility of Rs 5,000 crore to NHB and NABARD for a period of one year at repo rate
Index Returns
| | | | | | |
| --- | --- | --- | --- | --- | --- |
| Index | 1W | 1Y | 3Y | P/E | P/B |
| NIFTY 50 | 1.3% | 3.3% | 3.7% | 30.7 | 3.2 |
| NIFTY NEXT 50 | 1.0% | 5.4% | -1.6% | 33.3 | 3.9 |
| S&P BSE SENSEX | 1.2% | 3.7% | 5.6% | 26.4 | 2.8 |
| S&P BSE SmallCap | 5.0% | 9.5% | -5.3% | -460.7 | 2.1 |
| S&P BSE MidCap | 3.3% | 5.2% | -3.0% | 30.5 | 2.3 |
| NASDAQ 100 | 2.1% | 39.6% | 22.5% | 36.0 | 8.0 |
| S&P 500 | 2.5% | 11.6% | 10.3% | 26.1 | 3.8 |
Source: BSE / NSE
Top 5 best performing funds
Source: Kuvera.in
Top 5 worst performing funds
Source: Kuvera.in
What Investors Bought
We saw the most inflows in these 5 Funds –
Source: Kuvera.in
What Investors Sold
We saw the most outflows in these 5 Funds –
Source: Kuvera.in
Most Watchlisted Fund
Top 5 funds added to watchlist by Kuverians
Source: Kuvera.in
Top ELSS funds
Source: Kuvera.in
Most Watchlisted Stocks
Top 5 stocks added to watchlist by Kuverians
Source: Kuvera.in
Announcement
1/ Nippon India Mutual Fund has launched the NFO for Nippon India Multi-Asset Fund.  The NFO will be open for subscription until 21 Aug.
2/ Motilal Oswal Mutual Fund has announced that Aashish Somaiyaa has resigned from services of Motilal Oswal Asset Management. Navin Agarwal has been appointed as MD and CEO in his stead.
3/ Canara Robeco Mutual Fund has announced a change in fund management responsibilities of relevant schemes.
4/ Reports suggest that YES Bank has shortlisted two prospective buyers for its mutual fund arm and sent the names to the Securities and Exchange Board of India (SEBI) for approval.  
Quote of the week:
All that glitters is not gold;
Often have you heard that told:
Had you been as wise as bold,
Young in limbs, in judgment old,

: Shakespeare
Interested in how we think about the markets?
Read more: Zen And The Art Of Investing
Watch/hear on YouTube:
Start investing through a platform that brings goal planning and investing to your fingertips. Visit kuvera.in to discover Direct Plans and Digital Gold and start investing today.
#MutualFundSahiHai, #KuveraSabseSahiHai!