Should you increase your allocation in gold as a measure of risk aversion during down markets? Our CEO Gaurav Rastogi & Ashish Shanker of Motilal Oswal PWM spoke to Surabhi Upadhyay of CNBC TV -18.
Reports emerged that mutual funds have transferred debt papers from credit risk funds to their other schemes amidst high redemption pressure in credit risk funds. While volumes of such transfers haven't been officially confirmed by respective AMCs yet, SEBI data shows that inter-scheme transfer of corporate bonds is not new. The total of such transfers stood at Rs 2.3 lakh crore and Rs 1.4 lakh crore for the previous two financial years. In the normal course of events, an AMC might want to move corporate bonds from one scheme to another – for example to an ultra-short or liquid fund scheme very close to the bonds maturity date.
The move from credit risk fund to a balanced advantage fund (BAF) or a hybrid fund creates, in our opinion, a few issues.
1/ Such transfers create an incentive for credit fund managers to take excessive credit risk in their funds with the knowledge that in the worst case the BAF / hybrid funds within their AMC will bail them out if redemption pressure increases.
2/ It exposes the investors of BAF / hybrid funds to risks they may not have signed up for or risks that may not have been articulated to them clearly. This can erode investor confidence from an entire category of mutual funds.
We think AMCs using a large BAF or hybrid fund as a sort of bank to deal with redemption pressure on credit funds sets a bad precedent. The argument that transfers are a small part of the BAF or hybrid fund does not hold water as once the precedent is set, the next time the transfers may not be a small part of the receiving funds.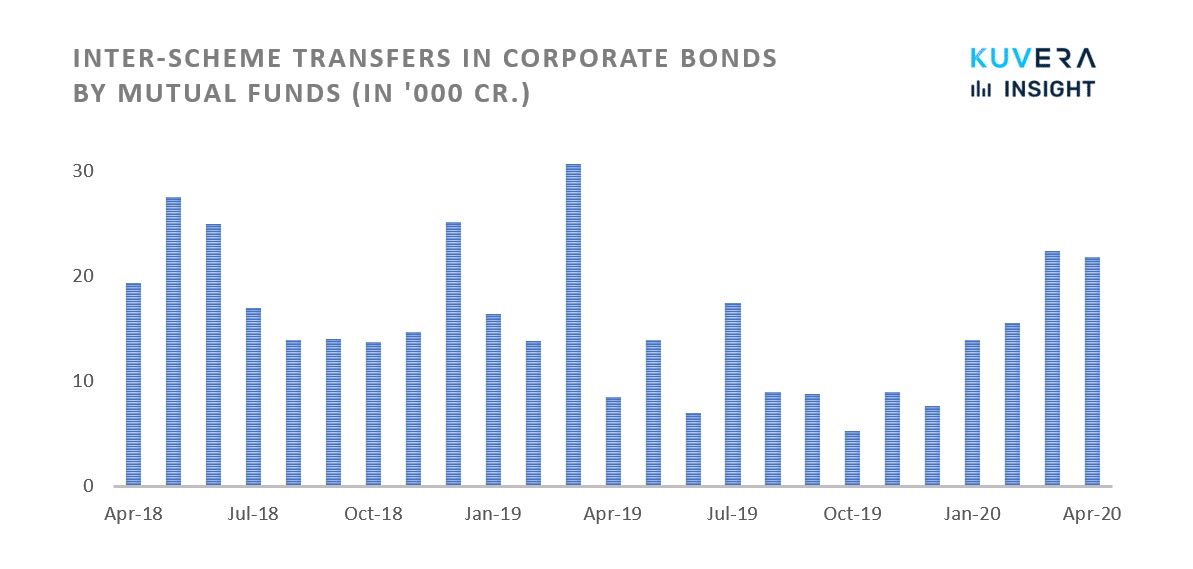 RBI Governor Shaktikanta Das announced additional liquidity measures on 22 May. Measures include: 
Lowered the repo rate by 40 basis points to 4% 

Continued with "accommodative stance" of monetary policy

Lowered the reverse repo rate by 40 basis points to 3.35%

Extended the moratorium on loan repayments by 3 more months till 31 August
Talking about GDP growth, Shaktikanta Das said that –
"GDP growth in 2020-21 is estimated to remain in the negative territory with some pick up in growth impulses in the second half of 2020-21 onwards."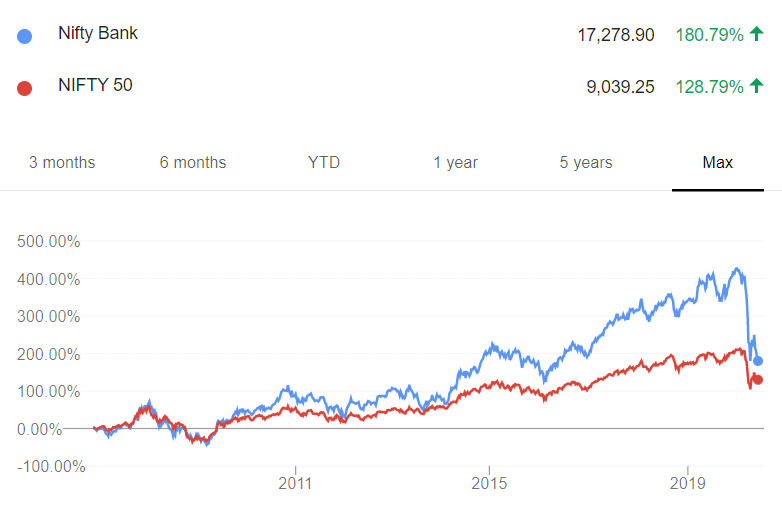 The worst 5 performing funds this week were all banking funds. A lot of investors had a large allocation to banks based on good performance post-2008 crash. BANKNIFTY index has given all the risk-adjusted excess returns earned since 2007.
All in a matter of months.
A lot of "broker advisors" will try and convince you to invest in this sector or that theme. Let this be a lesson that timing sectors and themes are very hard and all your gains can disappear in a few months. Don't chase returns.
Aditya Birla Sun Life Mutual Fund has temporarily suspended fresh purchases into ABSL Medium Term Plan and ABSL Credit Risk Fund with effect from 22 May 2020. Redemptions and switch out orders from these funds will continue to get processed as usual. The AUM of ABSL Medium Term plan fell by 39.4%  in the month of April and  ABSL Credit Risk Fund's AUM declined by 44.7% in the same period.
Index Returns
| | | | |
| --- | --- | --- | --- |
| Index | 1W | 1Y | 3Y |
| NIFTY 50 | -1.1% | -22.9% | -1.4% |
| NIFTY NEXT 50 | -0.6% | -14.1% | -3.8% |
| S&P BSE SENSEX | -1.4% | -21.5% | 0.1% |
| S&P BSE SmallCap | -1.5% | -26.6% | -11.2% |
| S&P BSE MidCap | -2.0% | -23.1% | -8.0% |
| NASDAQ 100 | 2.9% | 26.7% | 18.2% |
| S&P 500 | 3.2% | 3.5% | 7.3% |
Source: BSE / NSE
Top 5 best performing funds
Source: Kuvera.in
Top 5 worst performing funds
Source: Kuvera.in
What Investors Bought
We saw the most inflows in these 5 Funds –
Source: Kuvera.in
What Investors Sold
We saw the most outflows in these 5 Funds –
Source: Kuvera.in
Most Watchlisted Fund
Top 5 funds added to watchlist by Kuverians
Source: Kuvera.in
Top ELSS funds
Source: Kuvera.in
Movers & Shakers
1/ HDFC Mutual Fund has appointed Amit B Ganatra as a senior fund manager of HDFC Asset Management Company Limited with effect from 19 May 2020.
Quote of the week:
"Hey, old man, how did you draw such a perfect circle?" the boy asked.

"I don't know, I just tried, and tried again…here, you try." the old man replied as he slowly turned his head and looked at the boy.

The boy took the stick and the old man slowly walked away.

The boy, perplexed, began drawing circles in the sand. As time went by, the circles began to look better and better.

He kept trying and trying, and then, one bright morning, he drew a perfect circle into the sand.

Then he heard a small voice behind him.

"Hey old man, how did you draw such a perfect circle?"

: Yvan, Zen Story
Interested in how we think about the markets?
Read more: Zen And The Art Of Investing
Watch/hear on YouTube:
Start investing through a platform that brings goal planning and investing to your fingertips. Visit kuvera.in to discover Direct Plans and Digital Gold and start investing today.
#MutualFundSahiHai, #KuveraSabseSahiHai!