Why take a loan against securities (mutual funds etc)?
You are doing everything right. Investing for the long term. Investing in your financial goals. Investing regularly.
But something unexpected happens, life happens, and you need money urgently. It's a short term need – but your emergency funds do not cover the expense.
What do you do?
Do you sell your investments or take a loan against your investments? Selling your portfolio for short term emergency requirements comes with caveats.
You will have to bear the cost of the transaction. Taxes on accumulated gains and exit loads, where they apply, may take out more from your investment than the interest on a short term loan – especially a loan against securities (i.e the mutual funds you own)
You may miss out on some serious long term returns. In the last 12 or so years, the top 5 monthly returns capture almost the entirety of the past 12-year returns. Market timing is incredibly hard, thus pundits say that you should stay invested for as long as you can.
And worst, you may get out of the habit of investing. The last one may sound implausible but think about it. How many times have you stopped your exercise regimen after you took a short break! Habits need re-enforcement and re-starting a habit is usually as difficult as starting it in the first place.
For short term emergencies, be it a sudden unexpected payment or working capital need or any such requirement, loan against your mutual funds becomes a great tool to tide you over short term uncertainty. Further, because a loan against your portfolio is secured by the value of your portfolio, you can get a great rate for such a loan. Far better than credit card or personal finance loans.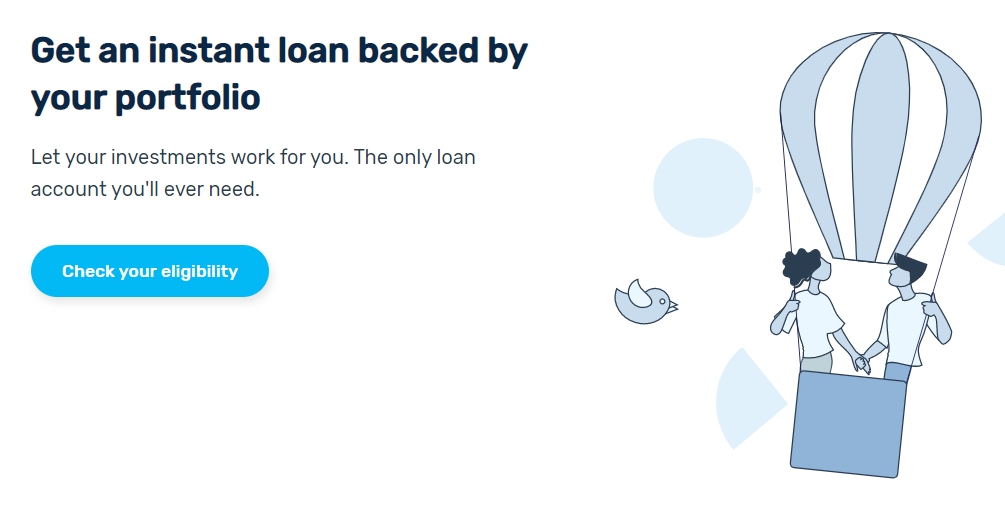 How does loan against securities work?
It is simple actually.
You give us permission to check your Mutual Fund portfolio to assess the maximum amount of loan you can qualify for. We show you all the fees and rates up front, nothing is hidden ever. If you agree, our lending partner processes the loan by putting a lien against your funds and transfers the money into your bank account. The loan processing is completely online and takes less than 5 minutes. The money hits your bank account in less than 2 days.
We have also made a loan against mutual funds universal. It does not matter which platform or broker you bought your funds from, we can help you get a loan against them at the best possible rates. You own funds across multiple platforms, across regular and direct, across offline and online, no issues. Our online process takes care of all of it to get you the highest possible loan value at the best possible rates regardless of where you bought your funds from or who manages them for you now.
Life throws curveballs. But you have options now.
If it is a short term emergency or working capital loan or unexpected expense, then loan against your mutual fund portfolio can help you tide over with the least impact on your financial goals.
Check your loan feasibility today.
Frequently asked questions (FAQ)
1/ How do you assess my loan eligibility?

Loan eligibility is subject to the mutual fund schemes you hold and the Loan Amount is a percentage of the current market value of these mutual fund holdings. For Example, if you hold UTI Nifty Next 50 mutual fund with the current market value of  ₹2 lac. The lending partner would give you a loan up to 50% of the current market value of your holdings which is ₹1 lac.
2/ Is there a pre-payment fee? 
No, why would we penalize you for a good financial decision? We recommend you pay back as quickly as it is feasible for you.
3/ How is interest calculated?
Interest is calculated only on the outstanding balance. So you pay for only what you use.
4/ What interest rate will be charged?
Please check our latest interest rates here. The interest rate charged will be significantly lower than a credit card or even a personal loan even for individuals with a good credit score.

Interested in how we think about the markets?
Read more: Zen And The Art Of Investing
Watch/hear on YouTube:
Start investing through a platform that brings goal planning and investing to your fingertips. Visit kuvera.in to discover Direct Plans and Digital Gold and start investing today.
#MutualFundSahiHai, #KuveraSabseSahiHai!