Even though flows globally in 2019 have predominantly been into debt.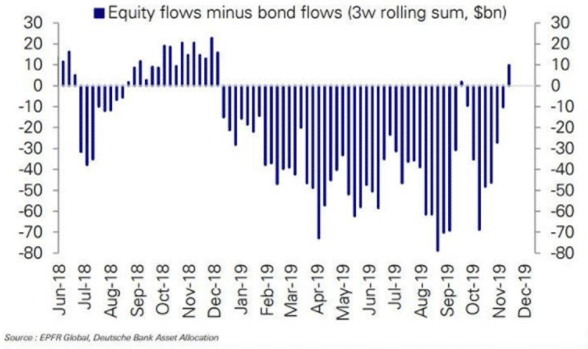 Global equity returns have been very robust.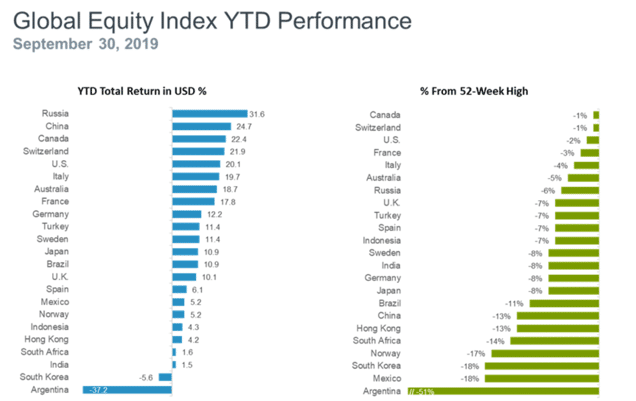 This creates the risk in 2020 is that flows will follow equity outperformance leading to a continuation of the equity rally. We have begun compiling all predictions for 2020 (global and Indian) in one place. You can see them here.
So far we have:
UBS Wealth: A majority of rich investors expect a significant drop in markets before the end of next year, and 25% of their average assets are currently in cash, according to a survey of more than 3,400 global respondents.
Deutsche Bank 20 risks for 2020: Continued increase in wealth inequality, income inequality and healthcare inequality.
Robeco: With a recession to be avoided and earnings growth to return, we believe global equities have further to go. We see stock markets reaching new highs going forward.
Barclays: We are cautiously optimistic for a detente in the US-China Trade War, and monetary policy also remains accommodative around the globe.
The Securities and Exchange Board of India banned Karvy Stock Broking Ltd from taking on new clients and executing trades for existing customers over client defaults worth Rs 2,000 crore with immediate effect. This ban is not expected to have an impact on the operations of Karvy Fintech, the Registrar & Transfer Agent (RTA) to 23 Mutual fund houses.  Karvy RTA operates as a separate entity, majorly owned by General Atlantic Singapore Fund Pte. Ltd., an investment vehicle of General Atlantic, a renowned growth equity firm headquartered in the US.
Aditya Birla Sun Life Mutual Fund has proposed to create segregated portfolios in following Scheme(s), effective November 25, 2019:
Essel Group has cleared the full NCD (Non-Convertible Debenture) dues of ICICI Prudential AMC and made partial repayment to HDFC AMC. HDFC Asset Management Company has received Rs 167 crore and ICICI Prudential AMC has got Rs 270 crore as repayment and interest from the Essel Group. Further to the repayment, ICICI Prudential Mutual Fund does not have any exposure to Essel Group.
Mirae Asset Mutual Fund is set to undergo corporate restructuring to demerge three of its core activities – real estate, venture capital, and mutual fund business. The internal restructuring of the AMC will cause no change in ultimate ownership and control of the AMC of Mirae Asset Mutual Fund nor on the management of its funds.  The fund house believes that this restructuring would help them diversify business activities in India and explore other opportunities in the financial services space.
Index Returns
| | | | |
| --- | --- | --- | --- |
| Index | 1W | 1Y | 3Y |
| NIFTY 50 | 1.2% | 11.0% | 14.0% |
| NIFTY NEXT 50 | 1.7% | 4.2% | 9.2% |
| S&P BSE SENSEX | 1.1% | 12.7% | 15.6% |
| S&P BSE SmallCap | 1.5% | -5.5% | 3.7% |
| S&P BSE MidCap | 2.3% | 0.9% | 6.8% |
| NASDAQ 100 | 1.6% | 21.9% | 19.9% |
| S&P 500 | 1.0% | 14.7% | 12.5% |
Source: BSE / NSE
Top 5 best performing funds
Source: Kuvera.in
Top 5 worst performing funds
Source: Kuvera.in
What Investors Bought
We saw the most inflows in these 5 Funds –
Source: Kuvera.in
What Investors Sold
We saw the most outflows in these 5 Funds –
Source: Kuvera.in
Most Watchlisted Fund
Top 5 funds added to watchlist by Kuverians
Source: Kuvera.in
Movers & Shakers
1/ Essel Mutual Fund has announced that Madangopal Jalan has been appointed as an Executive Director on the board of Essel Finance AMC Limited
2/ ICICI Prudential AMC will be appending the scheme names of select Fund of Funds with "(FOF)" with effect from 29th November, 2019. There will be no change in the fundamental attributes of the schemes.
3/ Axis Asset Management Ltd. has appointed Raghav Iyengar as Chief Business Officer of the company. Iyengar was earlier the CEO of Indiabulls Mutual Fund.
Quote of the week:
The Rum Tum Tugger is a Curious Cat:
If you offer him pheasant he would rather have grouse.
If you put him in a house he would much prefer a flat,
If you put him in a flat then he'd rather have a house.
If you set him on a mouse then he only wants a rat,
If you set him on a rat then he'd rather chase a mouse.

: T.S. Eliot
Interested in how we think about the markets?
Read more: Zen And The Art Of Investing
Watch/hear on YoutTube:
Start investing through a platform that brings goal planning and investing to your fingertips. Visit kuvera.in to discover Direct Plans and Digital Gold and start investing today.
#MutualFundSahiHai, #KuveraSabseSahiHai!