Pharma and related sectors have been one of the best performing sectors in the last 12 months. Nifty Pharma index is up 50.37% in the last one year, while the Nifty 50, the market index is just about flat now. If we look at from the March lows, the Nifty Pharma index has roughly doubled from those levels.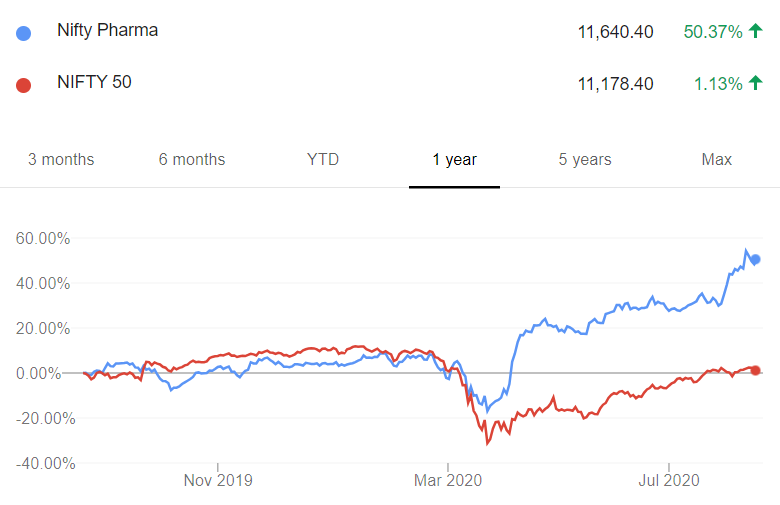 Source: Google Finance
Two big reasons have contributed to the recent outperformance in Pharma sector. First, the Pharma sector had been in a decline since the FDA clampdown post 2015. As you can see from below the Nifty Pharma index peaked late 2015 and then proceeded to loose 50% of its value over the next ~5 years till the turnaround in March of this year. Some or most of that FDA clampdown has been removed and the broader market belief is that it is not coming back. Second, COVID has created an opportunity for Indian Pharma majors to become one of the biggest suppliers of any vaccine as and when it is approved.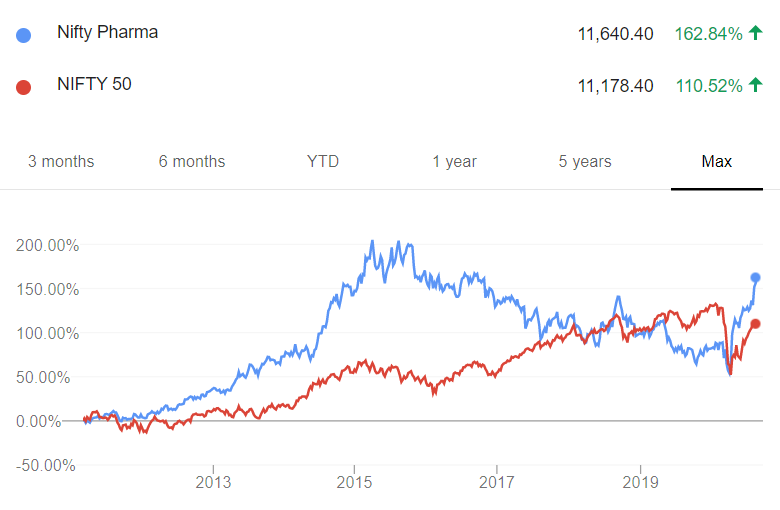 Source: Google Finance
If we look at the AUM of the three largest Pharma funds we don't see any signs of large inflows on the back of good performance. The change in the AUM of the three largest funds is mostly inline with the re-rating of the sector.
This is a good sign.
Investors are not chasing returns in the Pharma sector. This is unlike what we have seen with international funds and gold where we do find some return chasing behaviour. We have said this time and again, sectors are hard to time and you have to time it right twice. Once is when to buy, and second is when to sell.
More than timing, there is one more subtle reason to not actively use sector funds. If you believe in active management, then it is your fund managers job and not yours to weight sectors appropriately as and when they find the opportunity tempting. What's the point of investing in active management if you have to keep tracking and augmenting your fund managers decision all the time? Aren't you paying her to ensure that you are appropriately invested in the best opportunities in the market? It is a good time to remind yourself that active management doesn't mean you have to keep in actively managing your portfolio but for your fund manager to actively find the best opportunities for you 🙂
If you believe in passive management, will then you wouldn't ask this to begin with. You would know it is the markets job to appropriately weight the sector in the index. Their is no reason for you to make an exception and add allocation to a sector just because it has done well or everyone believes it will continue to do well. Always remember, these believes can change quickly and you may not be able to rebalance fast enough.
In this episode of #KuveraInsights, Dhruv Agarwala, Group CEO – PropTiger.com, Housing.com and Makaan.com; Shubhra Tandon, Asst Editor – Financial Express and Gaurav Rastogi, Founder & CEO – Kuvera.in discuss everything #realestate – the historic rise in prices in India, the opportunity in the dip, the future trends, investing through REITS and the impact of RERA.
Index Returns
| | | | | | |
| --- | --- | --- | --- | --- | --- |
| Index | 1W | 1Y | 3Y | P/E | P/B |
| NIFTY 50 | -0.3% | 1.3% | 4.5% | 31.1 | 3.2 |
| NIFTY NEXT 50 | 0.5% | 5.2% | -0.3% | 32.3 | 3.9 |
| S&P BSE SENSEX | -0.4% | 1.5% | 6.4% | 26.5 | 2.8 |
| S&P BSE SmallCap | 1.4% | 10.2% | -3.5% | -242.9 | 2.2 |
| S&P BSE MidCap | 1.5% | 7.1% | -1.5% | 31.45 | 2.31 |
| NASDAQ 100 | 0.2% | 48.8% | 23.6% | 36.1 | 7.9 |
| S&P 500 | 0.6% | 18.6% | 11.0% | 26.3 | 3.8 |
Source: BSE / NSE
Announcement
1/ BNP Paribas Mutual Fund has appointed Vineet Nayyar as Chief Financial Officer and Key Personnel of BNP Paribas Asset Management India Private Limited, with effect from 11 August 2020.
2/ Principal Mutual Fund has announced that O V Bundellu, Independent Director and Tess Downey, Associate Director have resigned from the services of Principal Trustee Company Private Limited.
3/ The Securities and Exchange Board of India (SEBI) has issued guidelines which will help mutual fund trustees in monitoring the activities of the Asset Management Companies (AMCs).
4/ Debt mutual funds saw inflows of Rs 91,392 crore in July, 31 times more than the inflows of the previous month. Low duration funds witnessed the most traction within the debt category with inflows of Rs 14,219 crore followed by liquid funds with inflows of Rs 14,055 crore. 
5/ Equity mutual funds witnessed outflows of Rs 2,480 crore in the month of July, making it the first monthly net outflows in more than four years.
Quote of the week:
Life is choices, and they are relentless. No sooner have you made one choice than another is upon you.

: Atul Gawande
Interested in how we think about the markets?
Read more: Zen And The Art Of Investing
Watch/hear on YouTube:
Start investing through a platform that brings goal planning and investing to your fingertips. Visit kuvera.in to discover Direct Plans and start investing today.
#MutualFundSahiHai, #KuveraSabseSahiHai!