After the launch of SaveSmart, India's best deposit account,  and Digital Gold SIP in January, we are happy to announce the launch of EPF tracking. It is a much-requested feature and is still under final development so do let us know your views on how we can improve it. Ps: mapping of EPF to your retirement goal is coming soon 🙂
The mutual fund industry witnessed inflows of Rs 7,877 crore in equity schemes in January, up 70% from December where the inflows stood at Rs 4,499 crore. The Assets under Management (AUM) of the mutual fund industry rose to Rs 27.85 lakh crore in January from Rs 26.54 lakh crore in the previous month.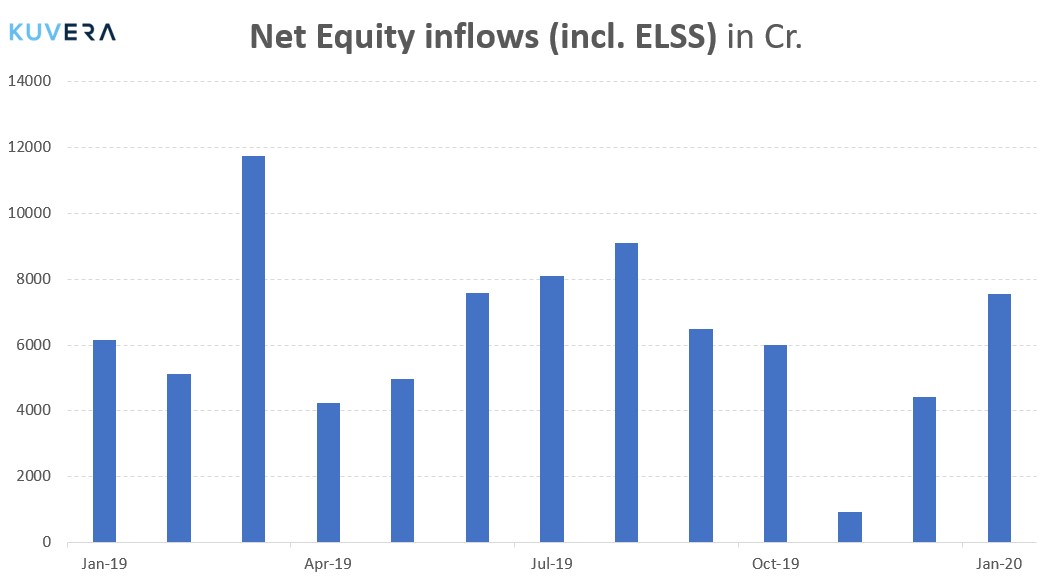 The total AUM inflow through SIPs till date touched Rs 3.24 lakh crore in January. The total inflows through SIPs stood at Rs 82,929 crore for the current financial year. In January, the mutual fund industry saw 12.07 lakh new SIP folios added.
SEBI has banned upfront distributor commissions and introduced direct plans for PMS investments. While PMS providers can charge annual fees as a percentage of the investor's corpus they have been barred from charging upfront fees to customers directly or indirectly. In it's circular published on 13 February, SEBI has also introduced a direct option for those PMS investors who do not wish to invest through distributors. Maximum exit load that can be charged in PMS schemes has been capped at 3%, 2% and 1% in the first, second and third year of investment, respectively.
On the macro front, retail inflation in India rose to the highest since May 2014. Consumer Price Index inflation stood at 7.59% in January 2020 compared to 1.97% in January 2019, as per data from the National Statistics Office. This is the second consecutive month that retail inflation has remained above the upper limit of 6 per cent set by RBI.
Index Returns
| | | | |
| --- | --- | --- | --- |
| Index | 1W | 1Y | 3Y |
| NIFTY 50 | 0.1% | 12.7% | 11.3% |
| NIFTY NEXT 50 | -1.9% | 9.8% | 5.9% |
| S&P BSE SENSEX | 0.3% | 15.0% | 13.3% |
| S&P BSE SmallCap | -1.1% | 9.8% | 3.0% |
| S&P BSE MidCap | -1.5% | 11.0% | 5.5% |
| NASDAQ 100 | 2.4% | 36.9% | 22.2% |
| S&P 500 | 1.6% | 23.0% | 13.1% |
Source: BSE / NSE
Top 5 best performing funds
Source: Kuvera.in
Top 5 worst performing funds
Source: Kuvera.in
What Investors Bought
We saw the most inflows in these 5 Funds –
Source: Kuvera.in
What Investors Sold
We saw the most outflows in these 5 Funds –
Source: Kuvera.in
Most Watchlisted Fund
Top 5 funds added to watchlist by Kuverians
Source: Kuvera.in
Top ELSS funds
Source: Kuvera.in
Movers & Shakers
1/ SBI Mutual Fund has approved the change in scheme name of SBI Magnum Taxgain Scheme to SBI Long Term Equity Fund with effect from 17 February 2020.
2/ Sundaram Mutual Fund has announced that Dwijendra Srivastava has been appointed as the co-Fund Manager (Fixed Income) of Sundaram Arbitrage Fund, with effect from 04 February 2020.
3/ Canara Robeco Mutual Fund has announced that R A Sankara Narayanan, Associate Director has resigned from the services of Canara Robeco Asset Management Company Limited, with immediate effect.
Quote of the week:
Retirement is like a long vacation in Las Vegas. The goal is to enjoy it the fullest, but not so fully that you run out of money.

: Jonathan Clements
Interested in how we think about the markets?
Read more: Zen And The Art Of Investing
Watch/hear on YouTube:
Start investing through a platform that brings goal planning and investing to your fingertips. Visit kuvera.in to discover Direct Plans and Digital Gold and start investing today.
#MutualFundSahiHai, #KuveraSabseSahiHai!