What is goal planning and why is it important? What is a glide path and how should an investor reduce risk through rebalancing as financial goals come closer?  In this weeks #KuveraInsights, we talk about goals and more with Swarup, CEO of Mirae Asset and Niraj, Markets Editor – Bloomberg Quint. 
Mutual fund industry added 6.83 lakh folios in the month of April taking the total number of folios up from 8.97 crores to 9.04 crore. While equity and equity-linked saving schemes saw addition of 6 lakh folios in April, the folio count of debt-oriented schemes dropped by 4.37 lakh in the same period. This is followed by addition of 9 lakh folios in March, 3 lakh folios in February and 14 lakh folios in January.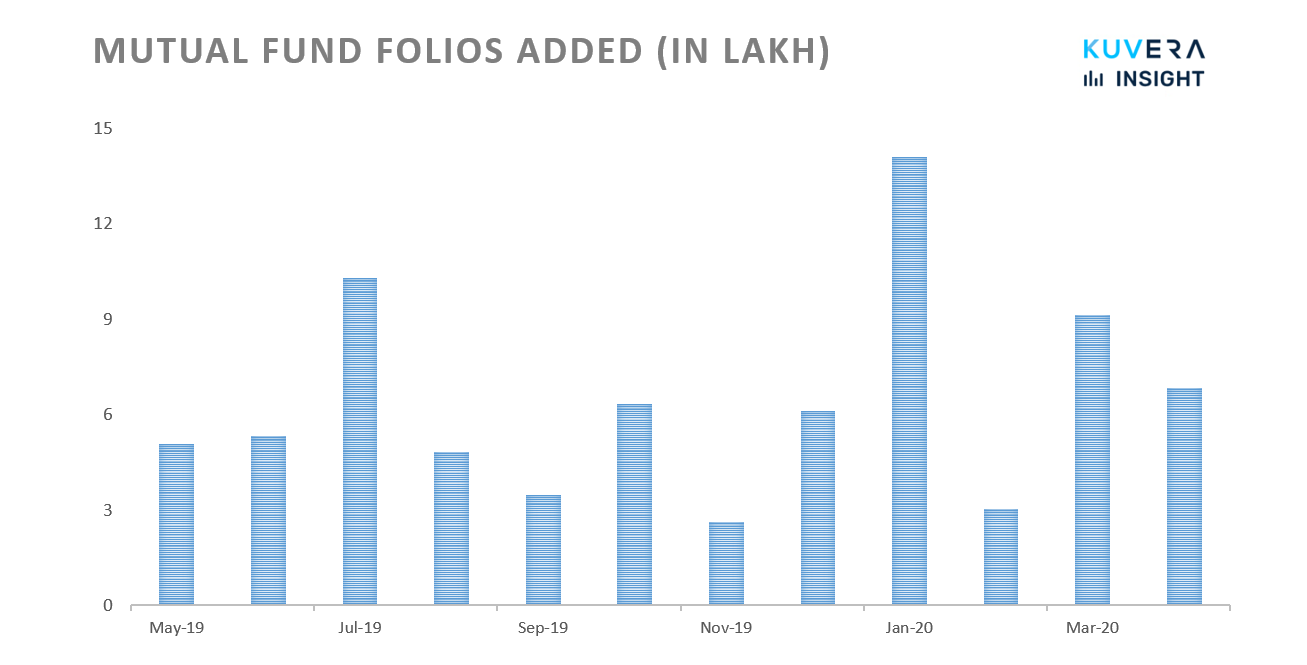 Franklin Templeton Mutual Fund has started the e-voting process for liquidation of its six debt schemes. This is to seek unitholder consent and decide between two proposed courses of action by a simple majority of votes cast, for each scheme. Unitholders have to first confirm their intent to participate in the e-voting process here.  The e-voting will remain open from 9:00 AM on 9 June to 6:00 PM on 11 June, and also during the time of VC unitholders meeting – 9:00 AM to 10:30 AM on 12 June. 
At the time of voting, unitholders will have the option to choose between the trustee (Franklin Templeton Trustee Services Private Limited) or Deloitte. Please note that unitholders should cast their vote separately for each scheme in which they hold units. Also, if unitholders abstain from voting or do not choose from one of two options, it may delay the liquidation process entirely. So if you are a unitholder in one or more of the six schemes, please visit this link, review the materials carefully and register to cast your vote on the above dates.
Index Returns
| | | | |
| --- | --- | --- | --- |
| Index | 1W | 1Y | 3Y |
| NIFTY 50 | 6.0% | -19.1% | -0.1% |
| NIFTY NEXT 50 | 4.5% | -12.8% | -2.2% |
| S&P BSE SENSEX | 5.7% | -17.8% | 1.4% |
| S&P BSE SmallCap | 3.5% | -26.9% | -9.8% |
| S&P BSE MidCap | 5.1% | -20.9% | -6.2% |
| NASDAQ 100 | 1.5% | 32.2% | 18.1% |
| S&P 500 | 3.0% | 9.3% | 8.0% |
Source: BSE / NSE
Top 5 best performing funds
Source: Kuvera.in
Top 5 worst performing funds
Source: Kuvera.in
What Investors Bought
We saw the most inflows in these 5 Funds –
Source: Kuvera.in
What Investors Sold
We saw the most outflows in these 5 Funds –
Source: Kuvera.in
Most Watchlisted Fund
Top 5 funds added to watchlist by Kuverians
Source: Kuvera.in
Top ELSS funds
Source: Kuvera.in
Movers & Shakers
1/ Edelweiss Mutual Fund has appointed Karan Datta as an independent director on the board of Edelweiss Asset Management Limited.

2/ DSP Mutual Fund has announced that Gopal Agrawal has resigned from his role as a senior fund manager at the fund house. Vinit Sambre, head of equities of DSP MF will take on the fund managerial responsibilities in his stead.
Quote of the week:
Thinking too much leads to paralysis by analysis. It's important to think things through, but many use thinking as a means of avoiding action.

: Robert Herjavec
Interested in how we think about the markets?
Read more: Zen And The Art Of Investing
Watch/hear on YouTube:
Start investing through a platform that brings goal planning and investing to your fingertips. Visit kuvera.in to discover Direct Plans and Digital Gold and start investing today.
#MutualFundSahiHai, #KuveraSabseSahiHai!