Is international investing right for you and how does it change in the post-COVID-19 world? In this weeks #KuveraInsights, our Founder & CEO discusses international diversification with Radhika, CEO – Edelweiss AMC and Una, Associate Editor, Thomson Reuters.
We have had a ~13% allocation to US equity since we launched in 2017. Then we were asked the question, Indian markets are doing so well so why have international exposure? Now, the question we get is should we increase our international allocation.
So what happened.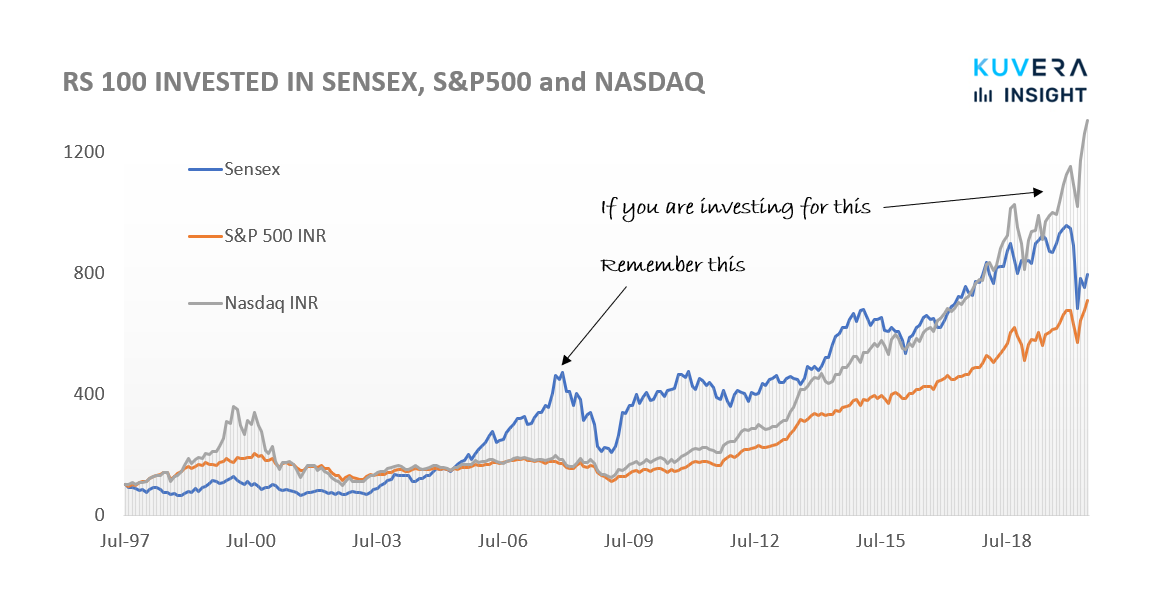 The chart above tells the story.
It tracks the value of Rs 100 invested in Sensex, S&P 500 and Nasdaq in 1997. What the chart clearly shows is that both Sensex and Nasdaq have had periods of outperformance over the other. Last year Nasdaq outperformed again and we believe that's what is driving the interest in international investing.
Our reason for international investing remains the same – Indian and US stock markets have a roughly 35% long term correlation. Adding some international exposure thus creates diversification which is good for your portfolio.
In investing there is a recency bias – we overweight recent data. However, we caution against the desire to be swayed by recent returns and increase international exposure with the expectation that it will continue.
The Gujarat high court stayed the e-voting process for winding up Franklin Templeton's six debt schemes. The e-voting process was originally scheduled to happen between 9 June and 12 June. A plea alleging the winding up of the schemes to be illegal was filed by promoter directors of Rasna Pvt Ltd. The matter will be next heard on 12 June.
Index Returns
| | | | |
| --- | --- | --- | --- |
| Index | 1W | 1Y | 3Y |
| NIFTY 50 | 5.9% | -15.5% | 1.6% |
| NIFTY NEXT 50 | 5.2% | -9.4% | -1.4% |
| S&P BSE SENSEX | 5.7% | -14.3% | 3.1% |
| S&P BSE SmallCap | 8.8% | -20.3% | -8.3% |
| S&P BSE MidCap | 6.0% | -17.3% | -5.4% |
| NASDAQ 100 | 2.8% | 35.9% | 18.6% |
| S&P 500 | 4.9% | 12.9% | 9.4% |
Source: BSE / NSE
Top 5 best performing funds
Source: Kuvera.in
Top 5 worst performing funds
Source: Kuvera.in
What Investors Bought
We saw the most inflows in these 5 Funds –
Source: Kuvera.in
What Investors Sold
We saw the most outflows in these 5 Funds –
Source: Kuvera.in
Most Watchlisted Fund
Top 5 funds added to watchlist by Kuverians
Source: Kuvera.in
Top ELSS funds
Source: Kuvera.in
Movers & Shakers
1/ Edelweiss Mutual Fund has approved the merger of Edelweiss Short Term Fund with Edelweiss Low Duration Fund, with effect from 01 July 2020. Unit holders of either of the schemes who do not wish to remain invested can redeem their units without any exit load until 30 June. 
2/ BOI AXA Mutual Fund has announced that Atul Sahasrabuddhe ceases to be an Independent Director of BOI AXA Investment Managers Private Limited with effect from 30 May 2020
3/ Canara Robeco Mutual Fund has announced that Deveshwar Kumar Kapila, has resigned from his post of Independent Trustee at Canara Robeco Asset Management Company Limited, with effect from 31 May 2020
4/ Quantum Mutual Fund has appointed Ghazal Jain as Associate Fund Manager of Quantum Gold Fund and Quantum Gold Saving Fund with effect from 02 June 2020.
5/ Indiabulls Mutual Fund has announced that Vikrant Mehta ceases to be Head – Fixed Income of Indiabulls Mutual Fund. The AMC has changed fund management responsibilities for the relevant schemes.

Quote of the week:
People always want investments to go up like a line.…

That's just not reality.

You make 80% of your money in 20% of the time in investing and you have to be patient.

: Jeffery Gundlach
Interested in how we think about the markets?
Read more: Zen And The Art Of Investing
Watch/hear on YouTube:
Start investing through a platform that brings goal planning and investing to your fingertips. Visit kuvera.in to discover Direct Plans and Digital Gold and start investing today.
#MutualFundSahiHai, #KuveraSabseSahiHai!