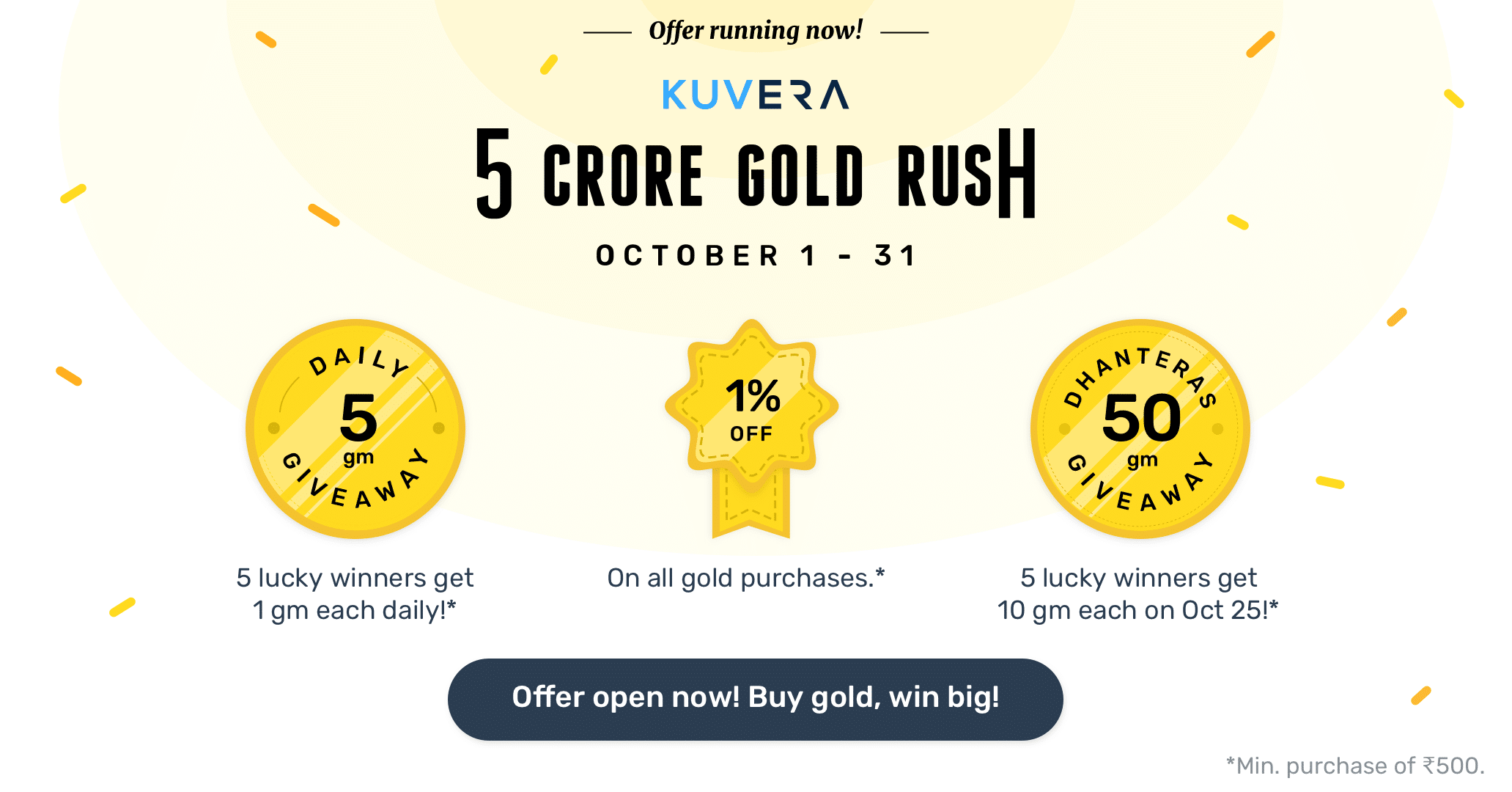 Four of the five top-performing funds last week are gold funds. Gold provides diversification benefits and has a low 0.3% correlation with the Nifty 50 over the past 29 years. Gold also outperforms exactly when equity markets are not doing well during crises, trade wars, crash fears, and natural hazards. However, Mutual Funds and ETFs do not track the price of physical gold closely.
The NAV for Gold ETF or Mutual Funds is computed after deducting the fee of the asset management company plus storage and custodian charges, which can all add up. Over time this can create a significant mismatch in gold returns and that of the gold ETF or Mutual Fund.
In the chart below, we look at 5-year returns from one Gold ETF (ICICI) and one Gold MF (Reliance).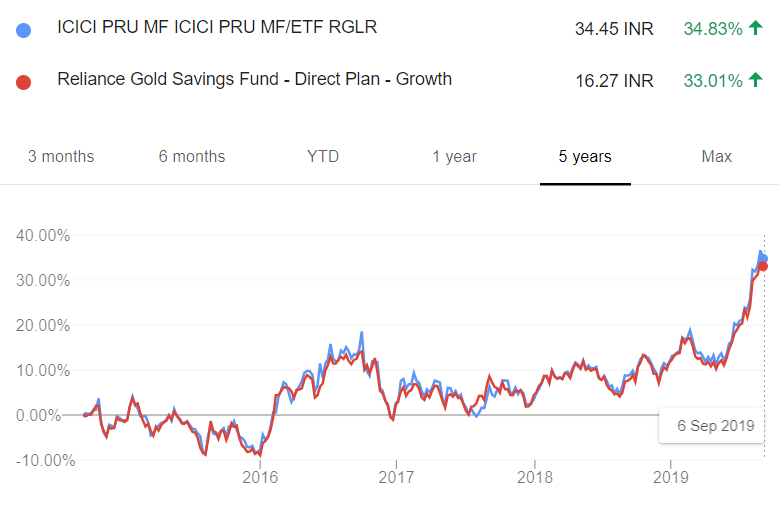 The ETF gained 34.83% while the MF gained 33.01%. Between the same time (19 Sep 2014 to 6 Sep 2019), the price of 22K gold went up by 51.3% (from Rs 2,525 / gm to Rs 3,820 / gm).
That's a big performance drag for using ETF and MF for investing in gold. Buying digital gold is a much better option as it tracks the price of physical gold closely. 
The RBI has cut the repo rate by 25 basis points to 5.15% in its fifth consecutive rate cut. The RBI also decided to continue with an accommodative stance as long as it is necessary to revive growth while ensuring that inflation remains within the target. The Central bank also cut the FY 19-20 GDP growth rate forecast from 6.9% to 6.1%. An RBI rate cut is executed in order to stimulate economic growth, as lower financing costs can encourage borrowing and investing. A rate cut is thus a monetary policy stimulus used by the central bank. At 5.15% RBI still has ample room for more rate cut if and when required.
With over-subscription of 111.85 times, the Indian Railway Catering and Tourism Corp. Ltd (IRCTC) became the most subscribed PSU IPO to date. The company received bids worth Rs 72,200 crore for a stake worth Rs 645 crore that was on offer.
SEBI has introduced fresh norms for investment by debt-oriented mutual funds. In its circular, the market regulator disallowed mutual funds from investing in unlisted securities, with the exception of government securities, or securities which are not normally assigned credit ratings (like interest rate futures or swaps). SEBI further allows debt funds to invest in unlisted Non-Convertible Debentures (NCDs), provided they have a simple structure.
Index Returns
| | | | |
| --- | --- | --- | --- |
| Index | 1W | 1Y | 3Y |
| NIFTY 50 | -2.9% | 5.4% | 8.4% |
| NIFTY NEXT 50 | -4.1% | 0.5% | 4.1% |
| S&P BSE SENSEX | -3.0% | 7.1% | 10.0% |
| S&P BSE SmallCap | -3.9% | -9.3% | -1.0% |
| S&P BSE MidCap | -3.9% | -4.7% | 0.4% |
| NASDAQ 100 | 0.9% | 3.5% | 16.9% |
| S&P 500 | -0.3% | 1.7% | 11.1% |
Source: BSE / NSE
Top 5 best performing funds
Source: Kuvera.in
Top 5 worst performing funds
Source: Kuvera.in
What Investors Bought
We saw the most inflows in these 5 Funds –
Source: Kuvera.in
What Investors Sold
We saw the most outflows in these 5 Funds –
Source: Kuvera.in
Movers & Shakers
1/ BNP Paribas Mutual Fund has appointed Karvy Fintech Private Limited as Registrar & Transfer Agent of its schemes with effect from 14 October 2019.
2/ Reliance Nippon Life Asset Management Limited and Reliance Capital Trustee Co. Limited have changed the name of the Mutual Fund (i.e. Reliance Mutual Fund) to Nippon India Mutual Fund. The names of all the existing schemes will also be changed accordingly.
3/ Aditya Birla Sun Life Mutual Fund has appointed Vineet Maloo, Mohit Sharma and Lovelish Solanki as fund manager of Aditya Birla Sun Life Balanced Advantage Fund with effect from 09 October 2019.
Quote of the week:
Sometimes, we use the term 'growth' as a number and sometimes as an abstraction, but the underlying implication is always that, if the country grows at a certain rate, at the end there will be a pot of gold for everyone.

: Jamshyd Godrej
Start investing through a platform that brings goal planning and investing to your fingertips. Visit kuvera.in to discover Direct Plans and start investing today.
#MutualFundSahiHai, #KuveraSabseSahiHai!