SIP inflows were at an all-time high in July at Rs 8,324.28 crore. In comparison, SIP collection was Rs 7,553.84 crore in the same month the previous year. The mutual fund industry saw the addition of 5 lakh new SIP folios taking the total number of SIP folios to 2.78 crores. The aggregate AUM of the mutual fund industry saw a 1% increase month-on-month and stood at Rs 24.5 lakh crore in July-end.
We have been a proponent of index first approach to portfolio construction since the start. In positive news, the choice of index funds available to Indian investors continues to increase. Motilal Oswal Mutual Fund is launching four new Index Funds – Motilal Oswal Nifty 500 Index Fund, Motilal Oswal Nifty Midcap 150 Index Fund, Motilal Oswal Nifty SmallCap 250 Index Fund and Motilal Oswal Nifty Bank Index Fund. The NFOs will be open for subscription from 19/Aug onward.
The Monetary Policy Committee (MPC) of the RBI has lowered the repo rate by 35 basis points to 5.4%. The committee maintained its accommodative stance and a dovish tone. This is the fourth rate cut by RBI since February 2019. MPC reiterated that the rate cut decision was a preemptive move given slowdown in growth domestically and globally.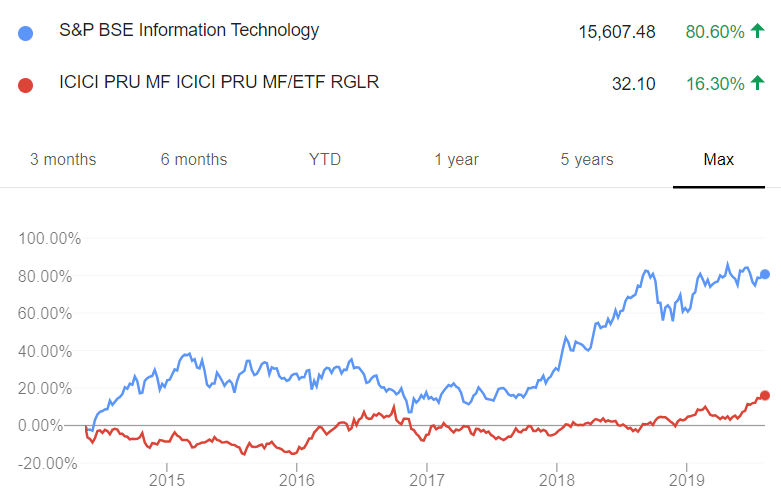 Gold and Indian IT were the two outlier sectors with a strong performance this week. We do not advise investing in sector-specific funds unless you have deep insights into the sector. Gold, on the other hand, is a good macro hedge when markets nosedive, expect it is very hard to predict when the markets will nosedive. So invest in gold only if it fits your asset allocation and not as speculation on market crashes.
Index Returns
| | | | |
| --- | --- | --- | --- |
| Index | Weekly open | Weekly close | Change |
| BSE Sensex | 38,736.23 | 38,337.01 | -1.03% |
| Nifty | 11,582.90 | 11,419.25 | -1.41% |
| S&P BSE SmallCap | 13,776.58 | 13,310.35 | -3.38% |
| S&P BSE MidCap | 14,553.88 | 14,078.34 | -3.27% |
Source- BSE/NSE
Top 5 best performing funds
Source – Kuvera.in
Top 5 worst performing funds
Source – Kuvera.in
What investors bought
We saw the most inflows in these 5 Funds –
Source – Kuvera.in
What investors sold
We saw the most outflows in these 5 Funds –
Source – Kuvera.in
Movers & Shakers
1/ Essel Mutual Fund has announced that Dhaval Choksi ceases to be the Equity Dealer & Fund Manager of Essel Arbitrage Fund and Key personnel of AMC. Pradeep Sukte has been appointed in his stead.
2/ HSBC Mutual Fund has announced a change in fund management responsibilities of HSBC Small Cap Equity Fund from Neelotpal Sahai to Ankur Arora.
3/ YES Mutual Fund has appointed Rajeev Rishi as an Independent Director on the board of the Trustee Company.
4/ LIC Mutual Fund has announced that Vinay Sah, Nominee Director has resigned from the Board of LIC Mutual Fund Asset Management Limited
Quote of the week:
The idea that a bell rings to signal when to get into or out of the stock market is simply not credible. After nearly fifty years in this business, I don't know anybody who has done it successfully and consistently. I don't even know anybody who knows anybody who has.

: Jack Bogle
Start investing through a platform that brings goal planning and investing to your fingertips. Visit kuvera.in to discover Direct Plans and start investing today.
#MutualFundSahiHai, #KuveraSabseSahiHai!