The BSE Small-Cap index fell 3.2% over the course of this week. BSE defines small-cap as the 250 smallest companies in the BSE 500 index which itself is the 500 largest market cap companies in India. Historical the BSE SmallCap 250 Index has outperformed the BSE Sensex Index, but with higher volatility i.e it rises and falls a lot more than the BSE Sensex index does.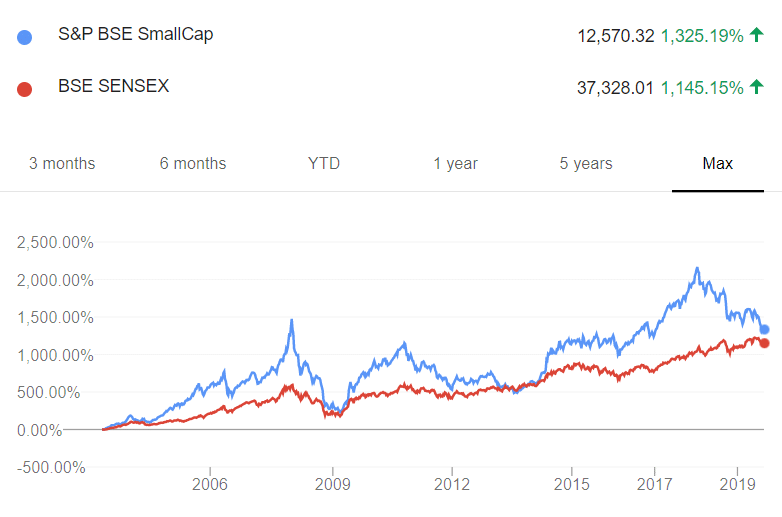 While the average returns for small caps are higher, have small caps delivered any "alpha"? Alpha, in investing, is defined as the ability of an investment to beat the market after adjusting for risk. Simply put does your investment have better risk-adjusted characteristics than the market? 
Globally,  there has been evidence of small-cap alpha, first documented by Rolf Banz in 1981 –
It is found that smaller firms have had higher risk-adjusted returns, on average, than larger firms.
The India evidence, so far, shows otherwise. We ran a monthly regression of BSE SmallCap 250 index returns against the BSE Sensex index returns. We find that the BSE SmallCap 250 Index has produced no alpha over and above the BSE Sensex index.
The evidence so far is not favouring smaller cap companies in India over their larger-cap brethren. If you are already invested in small-caps though, then you should think about it as a lesson learned and wait to get out of your investment.
Don't rush to sell, as a drawdown of 30% plus in the smallcap index may not be the right time to sell your investments. If you are feeling restless, spend some time reading (instead of placing orders)! 
Nirmala Sitharaman, the Finance Minister, announced that the Government would rollback the enhanced surcharge levied on long and short term gains arising from the transfer of equity and shares. The higher tax surcharge on Foreign Portfolio Investors (FPIs) and Domestic Investors has been withdrawn. The higher surcharge will continue to apply for HNIs (high net-worth individuals).
The Finance Minister has also said that the corporate tax rate for companies with over Rs 400 crore turnover will be gradually cut to 25%. No timeframe has been specified for the same. In her maiden Budget last month, Sitharaman had cut the corporate tax for companies with an annual turnover of up to Rs 400 crore to 25% from the earlier rate of 30%.
In Conversations, we spoke with Mr Manish Banthia, Senior Credit Fund Manager who has been with ICICI Prudential AMC in several roles including fixed income trading, credit analysis and product development. We talked about current credit conundrum, how to select credit funds and the opportunities in this space going forward.
Thus far, while investing in credit risk funds, investors were largely looking at the overall Yield to Maturity (YTM) of a portfolio rather than the underlying risks in their investments.
Index Returns
| | | | |
| --- | --- | --- | --- |
| Index | 1W | 1Y | 3Y |
| NIFTY 50 | -2.0% | -6.5% | 7.8% |
| NIFTY NEXT 50 | -2.5% | -17.1% | 3.8% |
| S&P BSE SENSEX | -1.7% | -4.3% | 9.5% |
| S&P BSE SmallCap | -3.2% | -27.9% | -0.7% |
| S&P BSE MidCap | -2.1% | -20.4% | 0.7% |
| NASDAQ 100 | -1.8% | 0.7% | 15.7% |
| S&P 500 | -1.4% | -0.3% | 9.2% |
Source: BSE / NSE
Top 5 best performing funds
Source: Kuvera.in
Top 5 worst performing funds
Source: Kuvera.in
What Investors Bought
We saw the most inflows in these 5 Funds –
Source: Kuvera.in
What Investors Sold
We saw the most outflows in these 5 Funds –
Source: Kuvera.in
Movers & Shakers
1/ UTI Mutual Fund has appointed Ankit Agarwal as Equity Fund Manager and Key Personnel of UTI AMC, with effect from 16 August 2019.
2/ Tata Mutual Fund has appointed Aurobinda Prasad Gayan as the key personnel at Tata Asset Management Ltd, with effective from 09 September 2019.
3/ Canara Robeco Mutual Fund has announced that Achal Kumar Gupta, Independent Director, has retired from the Board of Directors of Canara Robeco Asset Management Company Limited, with effect from 22 August 2019.
Quote of the week:
Before, you are wise; after, you are wise.

In between you are otherwise.

: David Zindell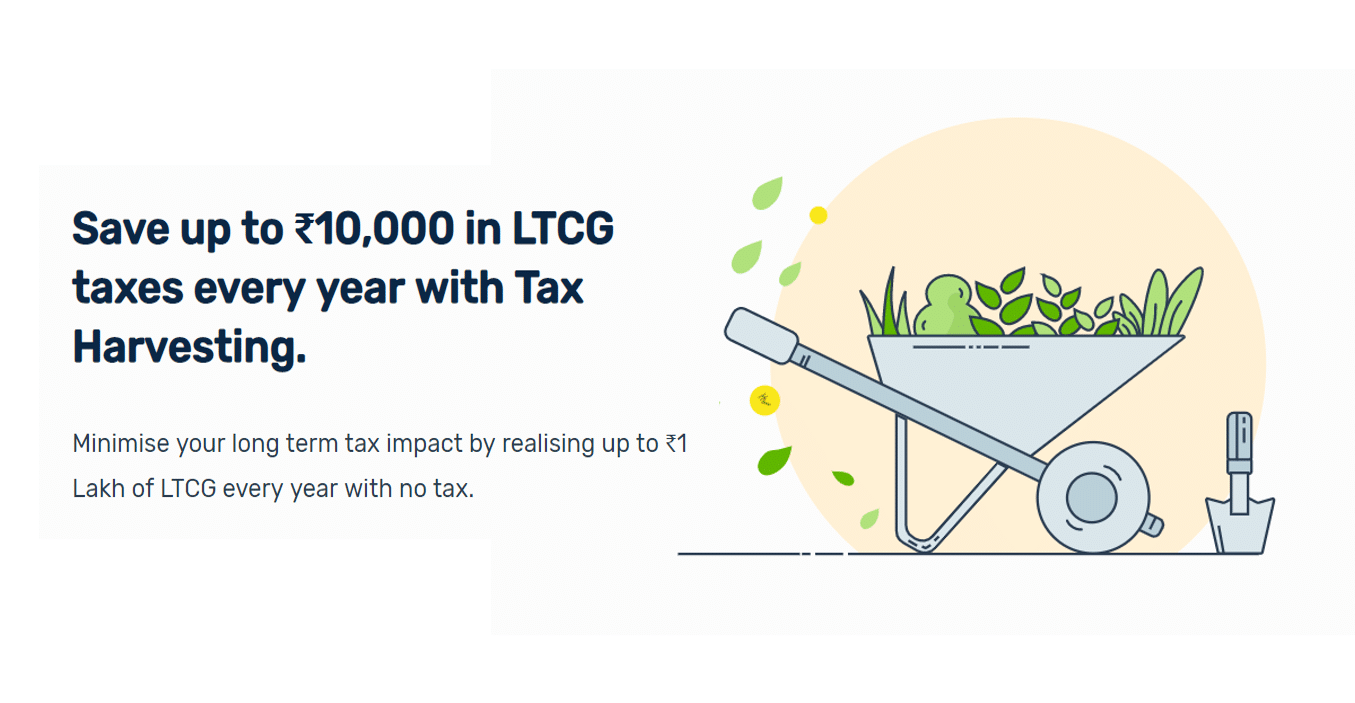 Feature Showcase: Tax Harvesting
Tax Harvesting is a technique that utilises the ₹1 Lakh annual LTCG exemption by selling and buying back part of your investment such that you "realise" gains and not pay taxes on them. At a 10% LTCG tax rate, you could save up to Rs 10,000 in LTCG taxes every year by doing this diligently.
Do not wait for February / March to harvest taxes. Do it as early in the financial year as possible – you may not have gains later to harvest!
Like all our features, Tax Harvesting optimizes on your entire portfolio – bought on Kuvera or imported from elsewhere.
Start harvesting today.
Start investing through a platform that brings goal planning and investing to your fingertips. Visit kuvera.in to discover Direct Plans and start investing today.
#MutualFundSahiHai, #KuveraSabseSahiHai!