What is the sector impact of recent developments – COVID19 and the ensuing central bank driven liquidity? In this weeks #KuveraInsights, our Founder & CEO, Gaurav, discusses reading the signs on the wall in equity investing with Ambareesh, Senior Market Analyst and Vishal, Senior Associate Editor, Business Standard.
Debt mutual funds saw inflows of Rs 63,665 crore in May, a jump of 46% from Rs 43,431 crore in April. Liquid funds witnessed the most traction within the debt category with inflows of Rs 61,870 crore. Net outflows from credit risk funds stood at Rs 5,173 crore in May, a significant drop from Rs 19,000 crore in April.
Mutual fund industry added 6.12 lakh folios in May taking the total number of folios up from 9.04 crore to 9.1 crores. While equity and equity-linked saving schemes saw an addition of 3.22 lakh folios, debt oriented schemes added 0.31 lakh in this period.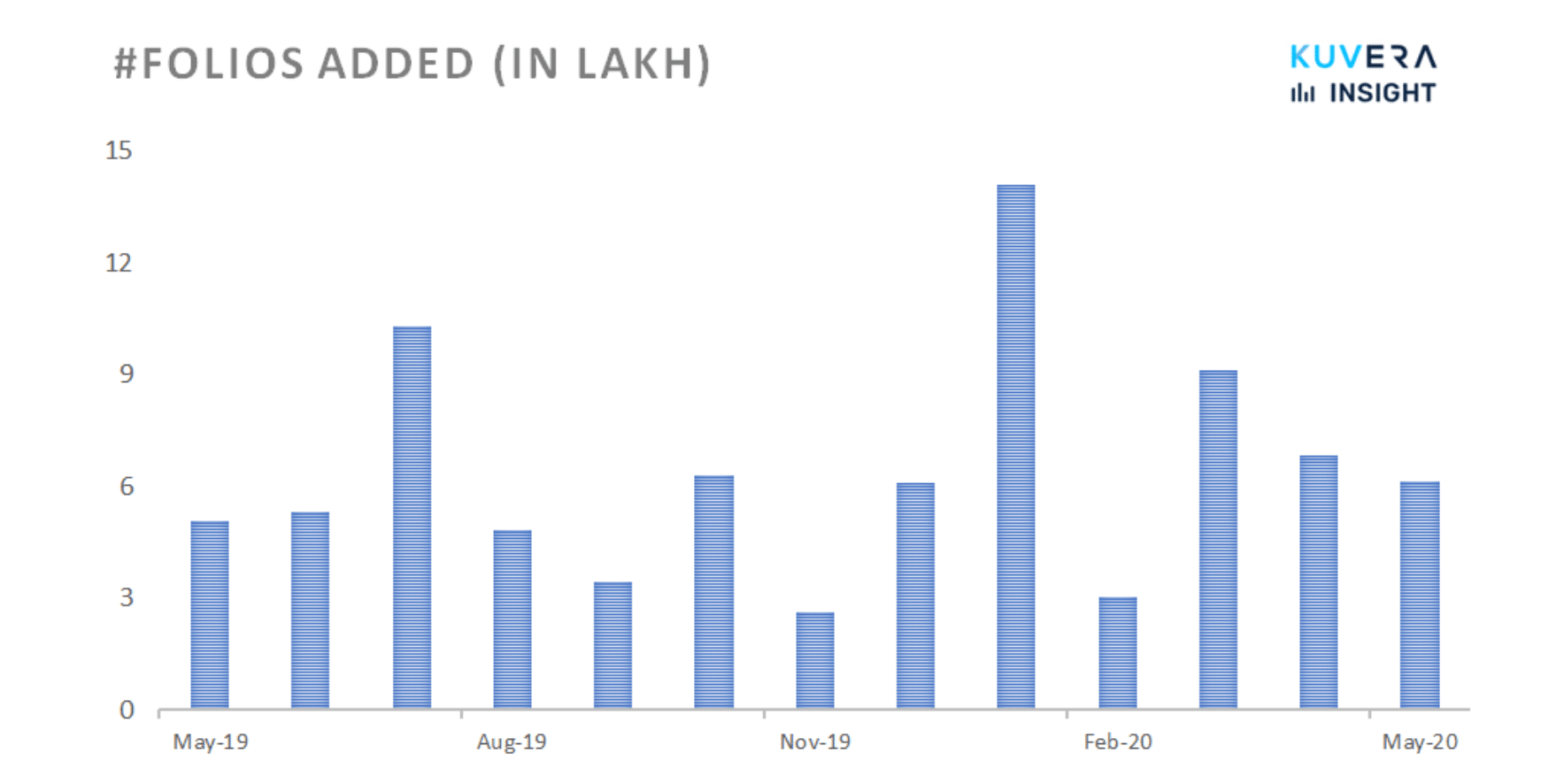 The Supreme Court has decided to transfer all ongoing cases related to the Franklin e-voting process to Karnataka High Court. The apex court has stated that it would refrain from intervening in the various petitions that are being heard in lower courts. SEBI had earlier appealed in Gujarat High Court to shift the case from a single-judge bench to another bench in the same court. This case too, would now be heard in the Karnataka High Court. The Supreme Court also said that the cases should preferably be heard within three months.
Index Returns
| | | | |
| --- | --- | --- | --- |
| Index | 1W | 1Y | 3Y |
| NIFTY 50 | 2.7% | -12.3% | 2.0% |
| NIFTY NEXT 50 | 0.8% | -5.0% | -1.8% |
| S&P BSE SENSEX | 2.8% | -11.1% | 3.5% |
| S&P BSE SmallCap | 3.6% | -11.7% | -7.8% |
| S&P BSE MidCap | 1.6% | -11.3% | -4.7% |
| NASDAQ 100 | 3.6% | 30.4% | 20.1% |
| S&P 500 | 1.9% | 5.8% | 8.1% |
Source: BSE / NSE
Top 5 best performing funds
Source: Kuvera.in
Top 5 worst performing funds
Source: Kuvera.in
What Investors Bought
We saw the most inflows in these 5 Funds –
Source: Kuvera.in
What Investors Sold
We saw the most outflows in these 5 Funds –
Source: Kuvera.in
Most Watchlisted Fund
Top 5 funds added to watchlist by Kuverians
Source: Kuvera.in
Top ELSS funds
Source: Kuvera.in
Movers & Shakers
1/ UTI Mutual Fund has appointed Imtaiyazur Rahman, Acting Chief Executive Officer as the permanent Chief Executive Officer of AMC.
2/ Nippon India Mutual Fund has appointed Kazuyuki Saigo as an Associate Director on the Board of Nippon Life India Asset Management Ltd.
3/ Principal Mutual Fund has appointed Venkata Surya Bharat Ravuri as Managing Director on the Board of Principal Asset Management Private Limited.
Quote of the week:
Here's to the crazy ones.

The misfits. The rebels. The troublemakers.

The round pegs in the square holes. The ones who see things differently. They're not fond of rules. And they have no respect for the status quo. You can quote them, disagree with them, glorify or vilify them.

About the only thing you can't do is ignore them. Because they change things. They push the human race forward. And while some may see them as the crazy ones, we see genius.

Because the people who are crazy enough to think they can change the world, are the ones who do.

: Apple Inc
Interested in how we think about the markets?
Read more: Zen And The Art Of Investing
Watch/hear on YouTube:
Start investing through a platform that brings goal planning and investing to your fingertips. Visit kuvera.in to discover Direct Plans  and start investing today.
#MutualFundSahiHai, #KuveraSabseSahiHai!