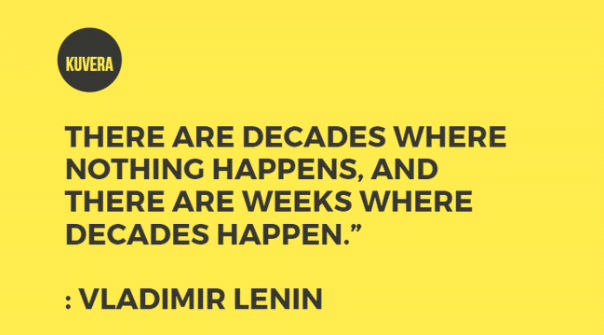 We are living through a few such weeks which may come to define this decade. And it may continue for some time till a concentrated response is put up against COVID-19. We, at Kuvera, are here to standby and answer your investment-related concerns.
These are extraordinary times and while markets have retraced 20% or more many times before, the speed with which this retracement has happened is a first. It took S&P 500 a mere 16 sessions to drawdown 20% and enter the bear market territory. Global markets are spooked and so are the Indian equity market. However, as we have seen many times before, human and economic resilience is immense and sooner or later markets do bounce back to reflect the constant march of progress.
Surprisingly for an individual investor, what works in peacetime also works in times of distress. I started working and investing during the cot com bubble and was trading CDS during the great financial crisis. Below are 5 lessons I have learnt to keep one's personal investing simple. Simplicity matters, because just as in dieting, it is better to follow a diet you can follow for decades than one that requires extraordinary effort for immediate but fleeting benefits.
Let's start with the biggest one. What should an investor do now?
Here is a quick list of practical advice we have learned by living through the dot com bust and the great financial crisis.
No gyan only simple actionable steps.
1/ Stick to your asset allocation and rebalance if it gets off by 5%. We will send reminders when that happens. In a crash, you will sell your debt and add equity. It may appear counter-intuitive but it is not. You are buying more equity as it falls.
2/ Track your wealth and not just your portfolio. The average Mutual Fund account on Kuvera is worth Rs 10.6 lakhs. The average EPF account is Rs 10.4 lakhs and the average gold account is Rs 6.2 lakhs. At a wealth level, last months ~20% decline in Equity Mutual Funds is still only a 5% decline in average wealth as gold has rallied.
3/ Postpone all decisions by 2 days. Say you are itching to buy or sell or stop a SIP or increase your SIP. Write the decision down and revisit it in two days. You will make better decisions.
4/ Check your wealth once a week. Yes, that's right. The more you check the more you will think you need to do something. Anything. Inaction is not our strength.
5/ If you have itchy hands, buy Rs 100 in any index fund. Always buy, always make it a trivial amount. This is my personal favourite. It satisfies my urge to take action without making any difference to my long term outcomes.
And that's it. 5 actionable steps.
If you have learnings you want to share, write to me. We will consolidate and publish it for everyone's benefit.
Happy investing.
Gaurav | CEO | kuvera.in