Mutual funds witnessed inflows of Rs 6,108 crore in equity schemes for the month of April, up ~50% from the same time from a year ago (April '19). Month over month the inflows fell over 50%. We think this is less of a concern because investment flows are seasonal, and as long as the year on year numbers are higher, we are making progress to build a stronger investing culture. The highest inflows were into large-cap and multi-cap which saw inflows of  Rs 1,691 and Rs 1,240 crore respectively. The assets under management (AUM) of the mutual fund industry stood at Rs 23.93 lakh crore in April up from Rs 22.26 lakh crore in the previous month.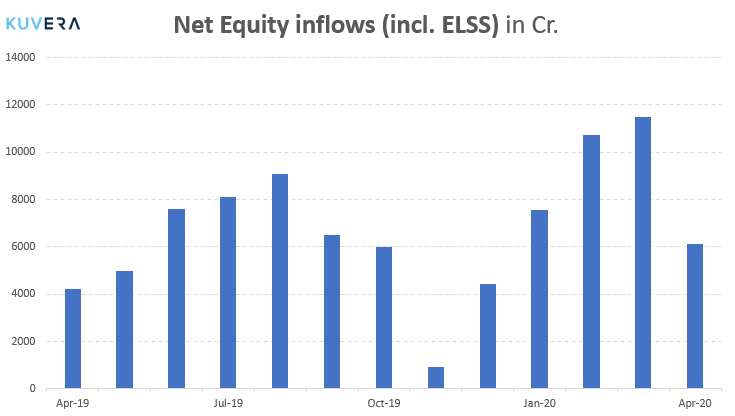 In this weeks #KuveraInsights, we spoke with Prathit, MD &CEO of Tata AMC and & KS Badri Narayanan, Markets Editor, The Hindu Business Line on how to recalibrate your portfolio in volatile times, what the lumpsum and SIP flows are telling us and the way ahead for investors.
Rating agency ICRA Ltd downgraded multiple Edelweiss Group companies and Shriram Group companies were put under "ratings watch negative" by IndiaRatings. Mutual funds have a collective exposure of around ₹3,300 crore in Edelweiss Group companies. 
Schemes with significant exposure to securities of Edelweiss Group companies include:
Schemes with significant exposure to securities of Shriram Group companies include:
Since our launch in 2017, we have stressed on an index first approach to portfolio construction. It is heartening for us to see that index investing is finally getting acceptance. In our introductory #KuveraQuickTakes series, we spoke with Pratik Oswal, head of passive investing at Motilal Oswal on the big questions surrounding passive funds.
SEBI has issued an ex-parte-ad-interim-order against the brokerage firm Modex International Securities Limited, which is suspected to have misappropriated almost Rs 100 crore of a clients' money. According to SEBI, "The findings of the NSE Report, indicate that there has been misuse of clients' funds and securities by the MISL and therefore… MSIL has been found to be in prima facie violation of… provision of law." Our advice, stick to an established and profitable broker with a long history. In times of turmoil, new entrants and smaller entities are more likely to go under or be forced to break the law. 
Index Returns
| | | | |
| --- | --- | --- | --- |
| Index | 1W | 1Y | 3Y |
| NIFTY 50 | -6.2% | -18.5% | -0.2% |
| NIFTY NEXT 50 | -4.7% | -14.0% | -4.4% |
| S&P BSE SENSEX | -6.2% | -16.2% | 1.9% |
| S&P BSE SmallCap | -4.2% | -24.6% | -11.7% |
| S&P BSE MidCap | -4.9% | -20.5% | -8.2% |
| NASDAQ 100 | 5.8% | 20.9% | 17.7% |
| S&P 500 | 3.5% | 1.7% | 6.9% |
Source: BSE / NSE
Top 5 best performing funds
Source: Kuvera.in
Top 5 worst performing funds
Source: Kuvera.in
What Investors Bought
We saw the most inflows in these 5 Funds –
Source: Kuvera.in
What Investors Sold
We saw the most outflows in these 5 Funds –
Source: Kuvera.in
Most Watchlisted Fund
Top 5 funds added to watchlist by Kuverians
Source: Kuvera.in
Top ELSS funds
Source: Kuvera.in
Movers & Shakers
1/ ICICI Prudential Mutual Fund has announced a change in Fund managerial responsibilities of its schemes with immediate effect.
2/ BOI AXA Mutual Fund has announced that Devender Paul Sharma ceases to be an Associate Director of BOI AXA Investment Managers Private Limited.
3/  ICICI Prudential Mutual Fund has appointed Naved Masood as Independent Director on the Board of ICICI Prudential Asset Management Company Limited, with effect from 02 May 2020.
Quote of the week:
One of the frustrating things for people who miss the first rally in a bull market is that they wait for the big correction and it never comes. The market just keeps climbing and climbing. It feeds on itself in frenzied fashion and propels prices considerably higher for six months or so, and sometimes longer.

: Martin Zweig
Interested in how we think about the markets?
Read more: Zen And The Art Of Investing
Watch/hear on YouTube:
Start investing through a platform that brings goal planning and investing to your fingertips. Visit kuvera.in to discover Direct Plans and Digital Gold and start investing today.
#MutualFundSahiHai, #KuveraSabseSahiHai!