Since May 2022, the Reserve Bank of India (RBI) has raised the repo rate, which has caused banks to raise the FD interest rates. Since May, the RBI has increased the repo rate by a total of 190 basis points (bps). The hike in FD interest rates is a positive move for pensioners and senior citizens who sometimes rely on such passive income, as fixed deposits are among the most popular investment options for many, especially conservative investors.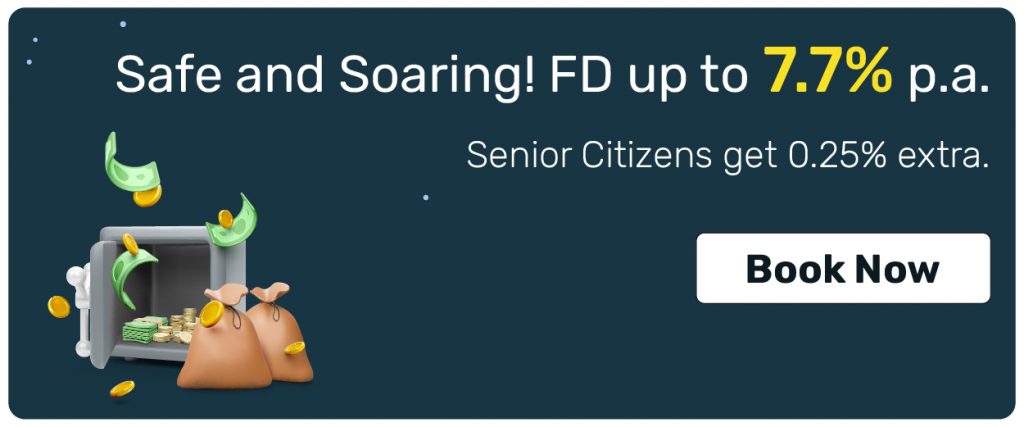 What is Fixed Deposit?
Fixed deposits, also known as FDs, are one of the most popular financial instruments that most banks provide to their clients. It is a preferred investment option for many risk-averse investors, as it is generally more secure than equity investments. In a fixed deposit, people deposit a large sum of money into a bank account for a set period of time at a fixed rate of interest. They receive the amount invested plus compound interest at the end of the fixed deposit's term.
How Does Fixed Deposit Work?
A fixed deposit is a type of financial product that banks and non-bank financial companies (NBFCs) offer. Customers can put a large amount of money into it and usually earn more interest than they would in a savings account.
An FD's duration can be anywhere from seven days to ten years or more. Once a deposit is made with a bank, it begins to accrue interest based on the term of the deposit. The main rule of a fixed deposit is that the money can't be withdrawn before maturity. And if investors withdraw before maturity, they might be required to pay the penalty. The duration of a fixed deposit can be selected with flexibility. Some banks provide a premature withdrawal option, although the rate of interest is reduced. The principal sum and interest are credited to the account holder's bank account by the bank on the date of maturity.
Several lenders are currently offering FD interest rates, that are more than 7%. If investors are planning to invest in a fixed deposit, here are the top five banks that offer the best fd interest rates on a three-year fixed deposit (as of November 18, 2022):
Top Banks Latest Fixed Deposit Interest Rates
AU Small Finance Bank – 7.50%
Au Financiers began its journey as an SFB on April 19, 2017, after obtaining the Small Finance Bank (SFB) license in 2015. On November 1st of the same year, it was given the status of Scheduled Bank and was added to the Fortune India 500. It has prioritized solutions during its transition from an NBFC to a bank based on the changing demands of its clients. The Bank emerged as a well-governed and trustworthy financial organization supported by the guiding principles of inclusion, progress for all, simplicity, action and urgency. 
In 2021, the bank changed its motto from "Chalo Aage Badhein" to "Badlaav Humse Hai," being the largest small finance bank in the nation. The bank's new motto, which is also its first integrated marketing campaign, is in line with its mission to push the envelope. The brand campaign's launch was accompanied by the introduction of the digital platforms AU 0101, Credit Card, and QR Code with Sound Box. The bank is making a strong effort to become a tech-led bank as customers' demands are changing quickly and technology is dictating the rules.
In April 2022, the bank marked five years as an SFB. Its five-year anniversary is a testament to the bank's solid customer relationships and innovative, flexible approach to problem-solving. As of June 30th, 2022, there were 989 touchpoints spread across 20 states and 2 union territories, up from 403 touchpoints in 8 states and 2 union territories in 2017. The bank is eager to provide India with cutting-edge goods and services in order to provide the finest possible banking experience while continuously maintaining the safety and security of its stakeholders. Different types of fixed deposits with high fd interest rates are available from the AU Small Finance Bank. Senior citizens might receive an additional 0.50% per year on their fixed deposits.
As part of a new generation of private sector banks, DCB Bank has 410 locations (as of September 30, 2022) all throughout India. It is a scheduled commercial bank governed by the Reserve Bank of India. It is professionally regulated and managed. Modern infrastructure and technology are available at DCB Bank, including cutting-edge internet banking for both personal and corporate banking customers. Retail, micro-SME, SME, mid-Corporate, agriculture, commodities, government, public sector, Indian banks, cooperative banks, and non-banking finance companies are among DCB Bank's business segments (NBFC). There are almost one million clients of DCB Bank. Andhra Pradesh, Bihar, Chhattisgarh, Daman, Delhi/NCR, Goa, Gujarat, Haryana, Karnataka, Kerala, Madhya Pradesh, Maharashtra, Odisha, Punjab, Rajasthan, Silvassa, Tamil Nadu, Telangana, Uttar Pradesh, Uttarakhand, and West Bengal are among the states with branches of the bank that are modern and welcoming to customers. Since its founding in the 1930s, DCB Bank has had a strong presence in India. The Aga Khan Fund for Economic Development (AKFED) and Platinum Jubilee Investments Ltd., its promoter and promoter group, own less than 15% of the company. AKFED is an international development enterprise. It is committed to encouraging entrepreneurship and creating financially stable businesses. 
Operating profit for Q2 of the fiscal year 2022–23 was INR 183 crore. The number of branches in the bank's network was 410 as of September 30, 2022. For Q2 of FY 2022–23, the bank generated net interest income (NII) of INR 411 crore. As of September 30, 2022, the net non-performing asset (NPA) was 1.54%.
Bandhan Bank is an Indian commercial bank that focuses on underbanked and underpenetrated sectors.  The bank currently provides a range of asset and liability products and services for both general banking and micro banking. Its asset offerings include retail loans, including a sizable portfolio of microloans, as well as micro, small, and medium enterprise (SME) loans and small enterprise loans. It is widely spread throughout East and North-East India, which is a market that is underdeveloped. To create non-interest income and meet the additional demands of its clients, the bank provides other banking products and services in addition to loans and deposit products. Debit cards are among the items and services offered. Internet banking, mobile banking, EDC-POS terminals, online bill payment services, and the sale of mutual funds and general insurance products by third parties are all examples of financial services.
On October 31, 1904, the bank, then known as "The Kumbakonam Bank Limited," was established as a limited corporation. Twenty devoted and respected Kumbakonam residents, including Sarvashri R. Santhanam Iyer, S. Krishna Iyer, V. Krishnaswami Iyengar, and T. S. Raghavachariar, signed the inaugural memorandum of association. The bank's first agent was T.S. Raghavachariar. As a result of the modified Articles of Association, which established the position of a secretary to be in charge of the bank's management in place of the agent, he was succeeded by Shri R. Santhanam Iyer in 1908. He kept this position until his death in 1926. As Secretary, he was replaced by Shri. S. Mahalinga Iyer, who went on to become the bank's first full-time managing director in accordance with the revision of the bank's articles in 1929. From 1926 to 1929, he served as secretary, and from 1929 to 1963, he served as managing director.
The bank initially preferred to play the role of a regional bank and slowly but surely carved out a niche for itself in Thanjavur's Delta District. On January 24, 1930, the bank's first branch was established in Mannargudi. In the following 25 years, branches were established in Nagapattinam, Sannanallur, Ayyampet, Tirukattupalli, Tiruvarur, Manapparai, Mayuram, and Porayar. On March 22, 1945, the bank was added to the Reserve Bank of India Act, 1934's Second Schedule.
On November 14, 1954, the Bank celebrated its Golden Jubilee in Kumbakonam, under the presidency of Shri. C. R. Srinivasan, editor of "Swadesmitran" and director of the Reserve Bank of India.
The bank opened its first Madras location in Thiyagaraya Nagar in November 1965. When the Bank hired Shri. O.R. Srinivasan, a former officer of the Reserve Bank of India, served as Chairman and Chief Executive Officer in May 1969, it marked a significant turning point in the Bank's history. From March 1968 to August 1973, branches were established at Eravancheri, Sembanarkoil, Tiruchirapalli, Madurai, Thanjavur, Dindigul, Keelapalur, Tirumakkottai, Kottur, Tiruvarur Town, and Coimbatore under the direction of the new management.
Six further branches, including Kumbakonam-Town, Nannilam, Koradacherry, Tiruvidaimarudur, Tirupanandal, and Kuttalam, were added as a result of the combination of two additional local banks, The City Forward Bank Limited and The Union Bank Limited, in April 1965. The Kumbakonam City Union Bank Limited became the new name of the bank as a result. With effect from December 1987, the bank's name was changed to "City Union Bank Limited" in keeping with the national reputation linked to the institution.
The Karur Vysya Bank was founded in 1916 by, Sri M.A. Venkatarama Chettiar and Sri Athi Krishna Chettiar, in Karur, a small textile town with a strong agricultural heritage at the time. What began as a business with a seed investment of Rs. 1.20 lakh has developed into a top financial institution that provides a wide range of financial services to millions of its clients under one roof. As of March 31, 2002, the bank had a network of 789 branches, 2223 ATMs, and Cash Recyclers.
KVB is one of the first banks in the nation to accomplish complete branch networking using Core Banking Solutions. The Bank has consistently been a leader in embracing and utilizing technology to provide goods and services to its clients. As part of its transition to self-service banking, the Bank was a pioneer in the deployment of ATMs, bunch note recycler machines, fully automated passbook printers, and Cheque deposit kiosks. The bank also blazed a trend by offering its customers Internet banking and mobile banking. The Bank is the first to use entirely end-to-end digital processing for retail and business loans, making the entire process completely paperless.
Investing in fixed deposits is a great way to achieve high returns without having to worry about market fluctuations. Investors have a good chance to protect and increase their capital thanks to the competitive KVB FD interest rates. Karur Vysya Bank provides a selection of FD plans from which one can choose based on their preferences.
Conclusion
DCB Bank offers a staggering 7.5% interest rate on three-year fixed deposits. AU Small Finance Bank also has FDs with a maturity date of three years and an interest rate of 7.5%. Three-year fd interest rates of 7% are available from Bandhan Bank, City Union Bank, and Karur Vysya Bank. The fd interest rates are as of November 18, 2022.
Frequently Asked Questions (FAQs)
Why should investors consider FD for their portfolio?
In order to earn larger returns, investors in market-linked products may expose investors to risks. Investors may therefore look for safer investment solutions in order to maintain balanced financial growth. Unlike riskier instruments, fixed deposits are secure and provide guaranteed returns. As a result, an investor may recoup some of their losses from FD investments even if they lose money on other investment products.
What are the advantages of investing in fixed deposits?
Let us look at the factors that make fixed deposits so popular with everyone. 
Fixed Returns:

The interest rate on your FD is fixed, so your investment is secure regardless of market conditions. You will continue to earn the fixed interest rate, i.e. fixed returns on a specified date, in accordance with the selected payment plan.
Capital Security:

You won't need to be concerned about capital loss if you use FDs. The bank keeps your funds and promptly pays you the interest that is due. You receive a full return on your investment when the FD matures. As a result, you don't suffer any financial loss from the investment.
Loans:

Investors in fixed deposits might receive a loan against their fixed deposit investment. In this situation, the maximum loan can differ from one bank FD to another. In this instance, the loan amount can only exceed a specified portion of the fixed deposit's value. When compared to unsecured credits, the interest rate on these loans is usually cheaper. Any investor taking out one of these loans is required to verify the loan's interest rate. The repayment tenure for the loan is limited to the maturity period of the fixed deposit in question

Tax-saving: Under Section 80C of the Income Tax Act of 1961, a taxpayer may deduct up to 1,50,000. Your investment is only tax-deductible under this section if you invest in a tax-saving fixed deposit, which banks and post offices typically offer. This type of investment significantly minimises your tax liability.
Interested in how we think about the markets?
Read more: Zen And The Art Of Investing
Check out all our "Investor Education Originals" videos on Youtube and get smart about investing.
Start investing through a platform that brings goal planning and investing to your fingertips. Visit kuvera.in to discover Direct Plans and Fixed Deposits and start investing today.
#MutualFundSahiHai #KuveraSabseSahiHai #PersonalFinance #InvestorEducation;