Shapes of a market recovery (or recessions) is a term that you will hear more often this year going forward. So here is a quick primer on the shapes of market recovery and what they mean.
V-shaped: market suffers a sharp but brief period of decline with a clearly defined trough, followed by a strong recovery.
U-shaped: a U-shaped recovery is longer than a V-shaped one, and has a less-clearly defined trough.
W-shaped: in a W-shaped recovery, (also known as a double-dip recovery), the market falls sharply, rebounds sharply and then falls back again before finally recovering, giving a "down up down up" pattern resembling the letter W.
L-shaped: market falls and never returns to trend growth for many years, and sometimes never. This is the worst-case outcome.
Let's see how this recovery is fairing so far.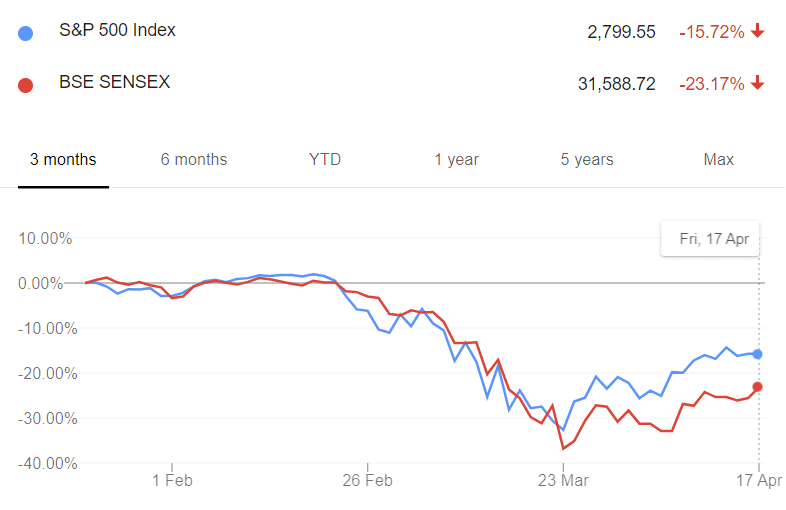 All the policy efforts and stimulus that is being unleashed globally is to get us to a V-shaped recovery, both for the real economy and the markets. A brief period of massive dislocation but then quickly back to trend supported by fiscal and monetary policy. Early signs are that it is working, though it may be noted that a W-shaped recovery is essentially two V-shaped recoveries stitched together.
Motilal Oswal Mutual Fund has launched the NFO for Motilal Oswal S&P 500 Index Fund. The Scheme seeks an investment return that corresponds to the performance of the S&P 500 Index subject to tracking error. The NFO is open for subscription until 23 April. We have had an international exposure in our recommended portfolio since the start (Jan 2017) as a ~13% allocation to ICICI Prudential US Bluechip Equity Fund We believe international exposure can give Indian investors access to a basket of best companies globally and provide a hedge against INR depreciation.    
Switch to Direct plans. Think about this, you will pay more in commissions in your investing life than what you lost in the markets last month.

And the commission once paid, is not coming back. It is not a mark to market loss.

So stop paying commissions and use this opportunity to switch to Direct. 
Mutual fund industry added over 72 lakh folios in 2019-2020, taking the total tally near to 9 crore mark. In comparison, over 1.13 crore investor accounts were added in 2018-2019, around 1.6 crore accounts in 2017-2018 and nearly 67 lakh in 2016-2017. According to the data, the number of mutual fund folios stood at 8.97 crores at the end of March 2020, registering a gain of 8.86% (72 lakh folios) from 8.24 crore at the end of March 2019.
RBI Governor Shaktikanta Das announced additional measures to ensure adequate liquidity in the system in a press briefing on 17 April. 
Lowered the reverse repo rate by 25 basis points to 3.75%

Maintained inflation outlook that "leaves room for policy action"

Undertook the second instalment of long-term repo operations (TLTROs) worth Rs 50,000 crore to facilitate liquidity for NBFC and microfinance institutions

Directed scheduled commercial banks and co-op banks to not make further dividend payouts from profits from FY20 until further instructions.
Index Returns
| | | | |
| --- | --- | --- | --- |
| Index | 1W | 1Y | 3Y |
| NIFTY 50 | 1.7% | -21.2% | 0.5% |
| NIFTY NEXT 50 | 2.7% | -17.5% | -3.0% |
| S&P BSE SENSEX | 1.4% | -19.4% | 2.5% |
| S&P BSE SmallCap | 4.9% | -28.6% | -10.2% |
| S&P BSE MidCap | 4.0% | -23.6% | -6.3% |
| NASDAQ 100 | 7.2% | 14.9% | 17.8% |
| S&P 500 | 3.0% | -0.9% | 7.0% |
Source: BSE / NSE
Top 5 best performing funds
Source: Kuvera.in
Top 5 worst performing funds
Source: Kuvera.in
What Investors Bought
We saw the most inflows in these 5 Funds –
Source: Kuvera.in
What Investors Sold
We saw the most outflows in these 5 Funds –
Source: Kuvera.in
Most Watchlisted Fund
Top 5 funds added to watchlist by Kuverians
Source: Kuvera.in
Top ELSS funds
Source: Kuvera.in
Movers & Shakers
1/ Tata Mutual Fund has announced that Sonam Udasi ceases to be the co-fund manager of Tata Balanced Advantage Fund. Sailesh Jain, Akhil Mittal & Rahul Singh will continue as existing co-fund managers of the scheme.
2/ SEBI has announced extension of revised cut-off timings for mutual fund transactions from 17 April to 30 April. Refer the revised cut-off timings for mutual fund transactions on Kuvera here and here.

3/ BOI Axa Mutual Fund has approved the provisions for creation of segregated portfolio in select schemes, effective April 13, 2020. Unit holders who do not wish to retain their holdings in the scheme can redeem their units without any exit load between 15th April and 14th May 2020.
Quote of the week:
A martial arts student went to his teacher and said earnestly, "I am devoted to studying martial arts. How long will it take me to master it."

The teacher's reply was casual, "Ten years."

Impatiently, the student answered, "But I want to master it faster than that. I will practice every day, ten or more hours a day if I have to. How long will it take then?"

The teacher thought for a moment, "20 years."
 

: Zen parable
Interested in how we think about the markets?
Read more: Zen And The Art Of Investing
Watch/hear on YouTube:
Start investing through a platform that brings goal planning and investing to your fingertips. Visit kuvera.in to discover Direct Plans and Digital Gold and start investing today.
#MutualFundSahiHai, #KuveraSabseSahiHai!