I believe in the discipline of mastering the best that other people have ever figured out.

I don't believe in just sitting down and trying to dream it all up yourself.

Nobody's that smart.

: Charles T. Munger
Investment in equity mutual funds is an important decision and it should be based on carefully thought out aspects like goals, time horizon, income, risk & reward consideration, among others. For an investor though, besides the many benefits, the types of mutual funds can sometimes create confusion.
Making an informed choice always helps.
In this blog, we cover the sector and thematic funds and their significance.
What is a Sector Fund?
A sector fund is a type of scheme of mutual fund which primarily invests in a particular sector or industry. Sector funds are highly focussed funds and invest in a single or maximum of two sectors.
A sector fund is launched with the mandate of investing and benefitting from a specific sector or sectors. The fund manager, in this case, is of the view that the sector would give stellar returns basis the assessment of near to medium term.
For example– a fund launched for investing specifically in the automobiles sector, banking sector, Information Technology sector or FMCG sector. Most of the sectors will have associated indices to track their performance over time.
The chart below shows the performance of the banking index vs Sensex over the past few decades.

The chart below shows the performance of the BSE IT index vs Sensex over the past few decades.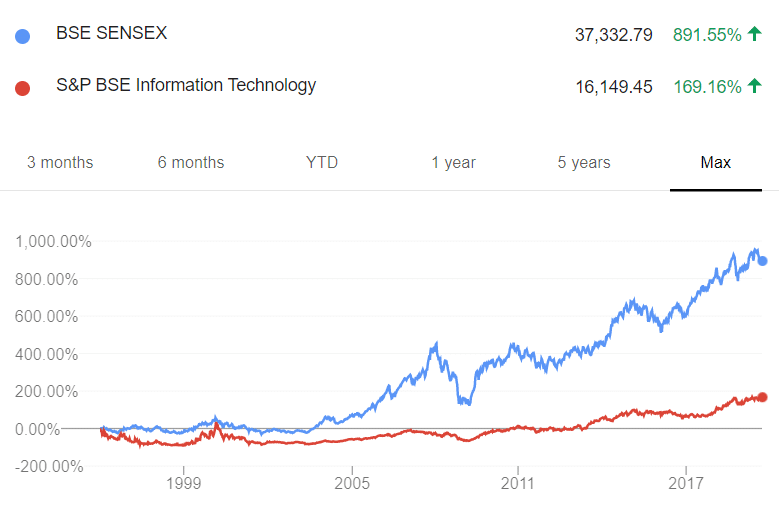 What is a Thematic Fund?
This is a fund where the fund manager invests in a broad-based theme, which in most cases covers several sectors and companies.
For example – a fund launched with housing as a theme will cover companies from cement, paint, tiles, sanitary ware, wire & cable, roads and steel sectors and importantly, banks as well.
A thematic fund with rural consumption as a theme is another example where an increase in rural income can result in an uptick in sale of two-wheelers, tractors and consumer products etc.
Features of Sector & Thematic Funds
1 Although both types of funds are in the high-risk category, a sector fund is a riskier investment when compared to even a thematic fund. This is because a 'theme' covers a larger universe and hence includes a bigger basket of stocks which gives it the advantage of some diversification.
2 Sector funds have greater concentration as compared to thematic funds. Although both are far more concentrated than diversified equity funds.
3 Even a seemingly small change or slightly negative news in a particular sector or even a single company out of an entire sector or theme can bring about a big change in the particular mutual fund scheme.
4 Entry at the right time has the potential to provide your portfolio with high market beating returns. However, an entry at the wrong time, like at the peak of the market  cycle can sometimes erode the entire principal
5 Both sector and thematic funds can be extremely beneficial for investors who understand the market cycle for products like oil, gold, sugar, tea, coffee, rubber, etc or of industries like BFSI and pharmaceuticals.
Growth in demand for any of the sectors or themes ensures a high proportionate growth for the investment.
Should You Invest
An individual investor might not have the kind of expertise required for playing out the cyclical nature of sector and thematic investments
Thematic or sector funds should not be an investor's first equity mutual fund investment. Diversified equity funds should be the default choice for a beginner.
Before investing in sector and thematic funds, the existing portfolio needs to be looked at. Most of the times, an investor's existing portfolio of diversified equity mutual funds might already have exposure to the specific sector or theme.

Don't be carried away by short term performance of sector or thematic funds. Timing sector and thematic funds is very hard. Always look at sustainable long term advantage before investing in either. If you can't find any, stay away.
In investing, the ground rules always remain the same- plan, understand and then invest for the long term – as patience rewards investors who stay the course.
Further Reading
Auto sector weakness, yield curve inversion & other MF news!
Technology Fund outperform, Index Flows & Other MF News
Start investing through a platform that brings goal planning and investing to your fingertips. Visit kuvera.in to discover Direct Plans and start investing today.
#MutualFundSahiHai, #KuveraSabseSahiHai!